Today, the baseball community mourns the passing of Hank Aaron. Besides the Dutch baseball community, not many know about the visit he once paid to the Netherlands. There is some footage (Kodak Super 8) about this visit.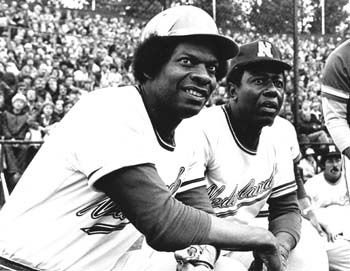 Back then in 1974, Hank Aaron visited the Netherlands as part of a promotion by Rob Muller, who was sponsor of hoofdklasse club Kinheim and who had big plans with baseball in the Netherlands. Aaron would participate in a home run derby with Dutch/ Curaçao baseball great Hamilton Richardson and other sluggers and be a guest player on the Dutch national team. Back then, Aaron was still having an active career as he still played for the Braves. At the end of the 1974 season, the Braves would trade him to the Milwaukee Brewers, where he ended his career.

This item on Youtube shows some footage of those days on which Aaron spent some time in the Netherlands. Unfortunately, this video is in Dutch. But the footage itself is unique and says it all.
As you can see, the stadium, the Pim Mulier Stadium in Haarlem was packed. All the fans came to see the legendary Hank Aaron. As the person in the video says, nothing similar has been organized afterwards.