One an a half years ago, the Italian League for Blind and Visually Impaired Baseball was founded. The league is supported by the Italian Baseball and Softball Federation (FIBS) and is run by the AIBXC (Italian for Italian Association for Baseball Played by the Blinds). 
Even though the League for Blind and Visually Impaired Baseball was founded in 2018, baseball for visually impaired and blind is played since 1994. First as demonstration games in the Bologna area but slowly the sport expanded to Rome, Verona, Florence, and Milan. In 1997 the AIBXC Onlus was created after a merger. The Association organizes a regular annual Agonistic Season which includes an Italian Championship and Italian Cup and an End of Seasons Tournament.
Personally, I always wondered how blind people would play baseball. The attached video makes it clear:
Through the years, baseball for the blind and visually impaired has expanded globally. Next to Italy this kind of baseball is played in  Cuba, the USA, Pakistan, the UK, France, and Germany as well. So far the most notable absentees are Spain and the Netherlands. Especially the absence of the Netherlands is remarkable when you know that the local base- and softball federation is supporting baseball for handicapped people. One would expect that the KNBSB would support Baseball for the blind and visually impaired as well.
Here is a link to the page with the rules of the game.
The field has a rather odd shape like the picture below shows.
Next to this kind of baseball for the blind and visually impaired, there is another kind of baseball called beep baseball which is mainly played in the United States.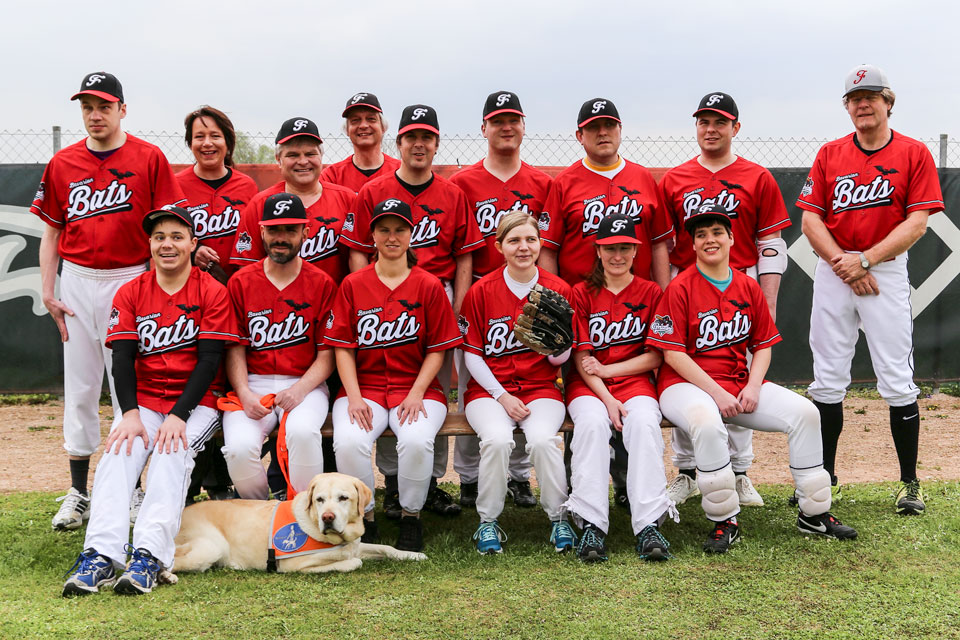 In Italy, there are twelve clubs that play baseball for the blind and visually impaired. In Germany there is one club so far: The Freising Grizzlies have founded a team for blind players named the Bavarian Bats (see photo above). Bats is an unfortunate choice of words as there is a proverb saying "He is as blind as a bat."
Hopefully, the sport will continue to grow and will countries like Spain and the Netherlands also give blind and visually impaired people a chance to play our beautiful sport.
Kudos to the Italians who made this kind of baseball possible.