Recently, you could read a blog post about Advocates for Minor Leaguers. In that blog post, it was mentioned how bad the Los Angeles Angels are treating their minor leaguers. A spokesman of the club stated that it was an outrage and that the club would address it…

In other words, the Angels pretended like they did not know…

Recently, David Samson, former President of the Miami/Florida Marlins was on the Dan LeBatard show. In that show he stated the following about the treatment of Minor League players: "Team officials who claim ignorance when outed for mistreating Minor Leaguers are "so full of it, I can't even tell you. We knew exactly what food was being served and what hotels they were staying at."

Luckily, there are a few clubs that really take action when it comes to the housing problem and the poverty wages they are paying. But most MLB clubs stick their heads in the sand.

A-ball players are earning $10,000 for the season, this year. That is a 72% raise (!) from 2019. That is a "whopping $833 per month (calculated over a year). Tell me how a player is supposed to make ends meet with a starvation wage like that. They are supposed to pay rent. Pretty hard with a salary like that. As a result, players sometimes get into a two-room apartment with seven players, where the majority has to sleep on air mattresses on the floor.

In most cases, landlords offer rental contracts for a period of six months as the shortest possible period. This can cause serious financial problems when a player is promoted. Here is an example of that: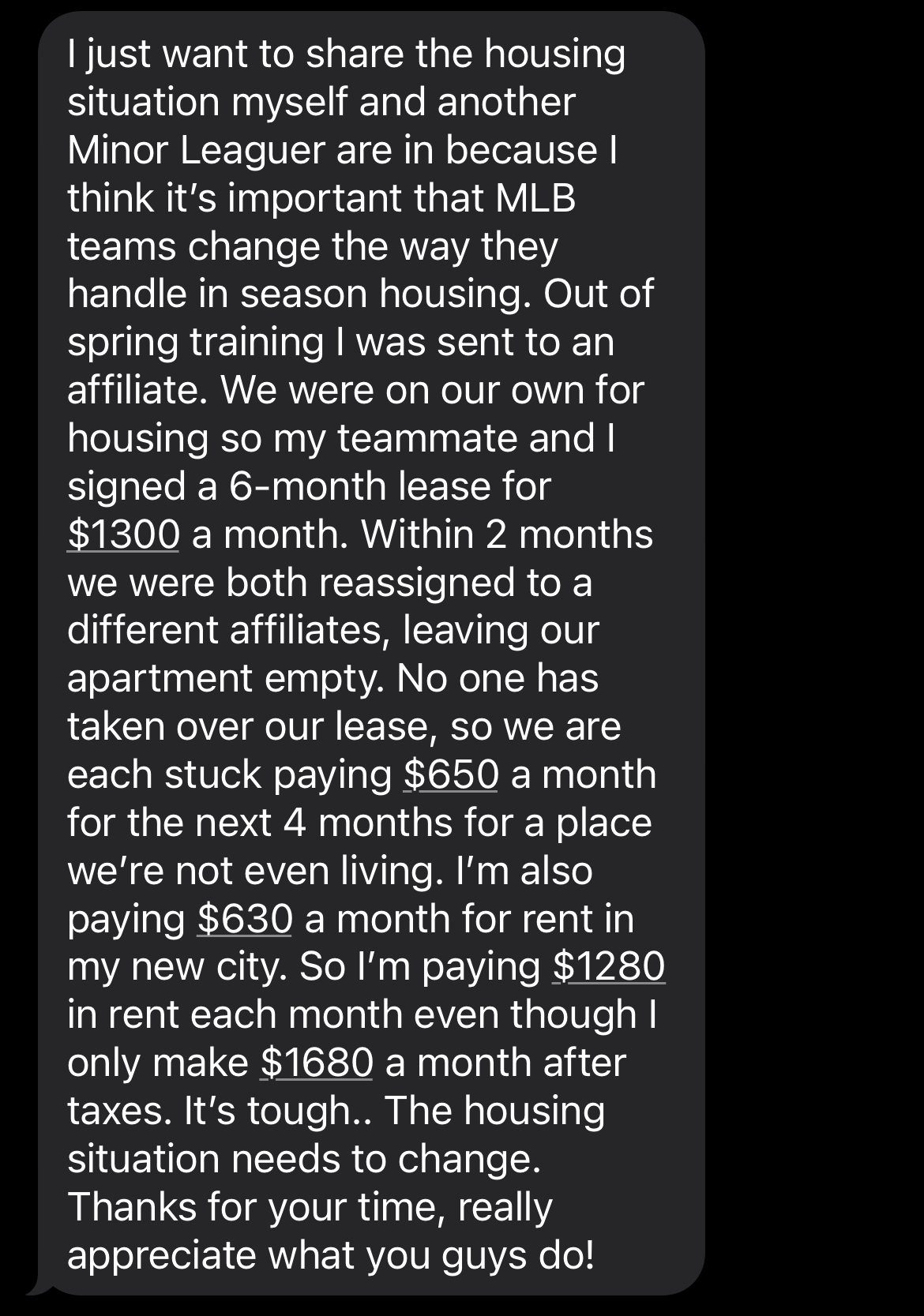 As David Samson is saying the Marlins knew about this situation, you can bet on it, other MLB teams know this as well. So by saying "It is an outrage," the Angels and other clubs that are ignoring the problem, are pleading ignorance aloud. Greedy MLB owners at its finest.