In the annual transition period, L&D Amsterdam did not see many players leave. Only two players left the club, while five were added to the roster.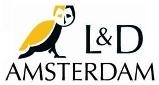 Players that left the club are Jim Ploeger, who left for HCAW and Oliver van der Wijst Severino, who left for HCAW as well. The latter may likely play in Italy again, like he did in 2020, so he cannot be called a real loss.

Pirates added the following players:

The talented Luuk ter Beek joined the club as he left HCAW. Ter Beek had a 4-1 record in seven starts with a 2.32 ERA, so he certainly is a good addition.

RHP Robyn Clara came from DSS/Kinheim. Clara had thirteen appearances (no starts) and a 2-1 record. His ERA of 1.80 and the opponents' batting average of .194 are worth to be mentioned.

RHP Kevin Geestman came from overgangsklasse (second tier league) club Onze Gezellen. Since the KNBSB is not keeping stats of leagues lower than the hoofdklasse, not much can be said about Kevin.

Another promising pitcher is Gio de Graauw, who came from HCAW as well. In ten appearances, he posted a 2-0 record with a 1.17 as he kept the opponents to a .202 batting average.

Mick Vos, is joining the club as he leaves Oosterhout Twins, where he proved to be a reliable shortstop. It remains to be seen how manager Michael Duursma will use Mick. Pirates has a solid third base man in Rachid Gerard. According to the website of Pirates, Sharlon Schoop will be on the roster next year, so it remains to be seen what the role of Mick Vos will be.