Today, 69 years ago, the New York Giants placed a large ad in the Minnesota Sunday Times that was almost apologetical to the Minneapolis Millers fans.
In the ad, the Giants explain why they promoted Willie Mays to the New York Giants.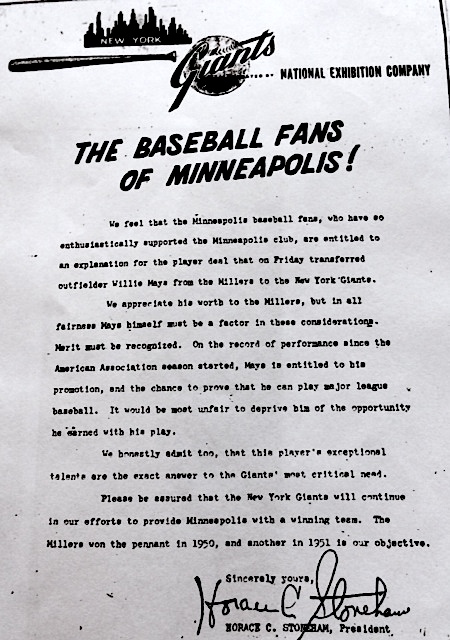 At the time of his promotion, Mays was the best player on the Millers' squad by far.
After only 35 games, Mays earned his promotion as he batted a whopping .477 with 8 home runs, 3 triples, and 18 doubles.
The Millers won the American Association championship in 1950 and according to the ad, the goal was a repeat in 1951. Unfortunately for the fans, the Millers would finish in fifth place, 2 games above .500.
The move to promote Mays was made clear by the future star as he batted above .300 for the majority of his career. After 1965, the last season he batted above .300, his batting average still was near the .300 mark. But in his final three seasons, of which two with the New York Mets, his average did not come close to .300 anymore.
Despite a promise that he never would trade him, Horace Stoneham, the owner of the (now) San Francisco Giants, traded his star player to the Mets in 1972 because he could
not afford to pay his salary anymore. But he agreed with the Mets that Mays' new club would pay him $50,000 in the first 10 years after he would stop playing.
Eventually, Mays would retire after the 1973 season. He would be inducted into the Hall of Fame in 1979 on his first ballot with 94,7% of the votes. One can wonder who didn't vote for Mays as he was one of the finest players in the Bigs. A five-tool player and a terrific hitter.