Shortly after the 1913 World Series, that was won by the Philadelphia Athletics with its A$100,000 infield, the owner of the Chicago White Sox, Charles Comiskey and the manager of the New York Giants, John McGraw, started a promotional tour around the globe.
According to the legend, Charles Comiskey and John McGraw made the plan for this tour in a bar in Chicago on a cold winter night in 1912. The two agreed on the tour to start right after the 1913 World Series in which John McGraw's Giants would fall the Philadelphia A's in five games. The story goes that both men were jealous of Albert Spalding, who had made a world tour before to promote his sporting good company. Spalding's tour visited countries like New Zealand, Australia, Egypt, and Italy. Comiskey and McGraw wanted to do a bigger and better tour in which teams from the two biggest cities in the United States would be represented. As the 25th anniversary of Spalding's adventure was approaching, it was time for a new edition. McGraw's and Comiskey's enterprise was a huge one. The two gentlemen did everything themselves; from promotional activities to the financing.
Even though it was called a world tour, the biggest chunk was played in the United States. From October 18, 1913, through November 19, the two teams toured towns and cities in the following states: Ohio, Illinois, Iowa, Kansas, Missouri, Oklahoma, Texas, Arizona, California, Oregon, and Washington. Not strange of course as Major League Baseball wasn't played east from St. Louis yet. In fact, the American part of the tour was nothing more than a barnstorming tour. After November 19, the two teams left for Japan where they would face each other on December 6 and took on the team of Keio University. The university team was no match for the combined White Sox/Giants team as they lost 16-3.
After Japan, the tour moved to Shanghai, where a game was scheduled on December 11 but unfortunately that game rained out.
The next stop was Hong Kong on December 14 where the Giants beat the White Sox 7-4 in a five-inning event. On December 17 and 18, two games were played in Manilla in the Philippines, back then an American colony or an unincorporated territory of the United States as it was called. From Manilla, the group went down under and visited four major cities in Australia: Brisbane (January 1, 1914), Sydney (January 3-5), Melbourne (January 7 and 8) and Adelaide (January 9). In Sydney, the two teams played two games on January 3 and two on January 5. In Melbourne, they also played on a two-game per day schedule.  In Adelaide, no game was played. In Sydney, the White Sox and the Giants played a team from New South Wales and in Melbourne, both teams faced a team from the State of Victoria.
From there, the tour moved to British colony Ceylon (now Sri Lanka) where they played one game before heading to Egypt. In Egypt, they played two games in the middle of the desert near Cairo. One game ended in a tie as the game was called after ten innings due to darkness.
After Egypt, the circus moved to Italy where no games were played. In Naples where the tour got ashore, no game was scheduled. In Rome however, three games were planned but all were rained out. From Rome, the tour moved to the Southern part of France and one game in Nice was played where a fashionable crowd attended the game according to newspapers. Unfortunately, Paris did not have the same favorable weather conditions as they had in Nice; all four scheduled games were rained out.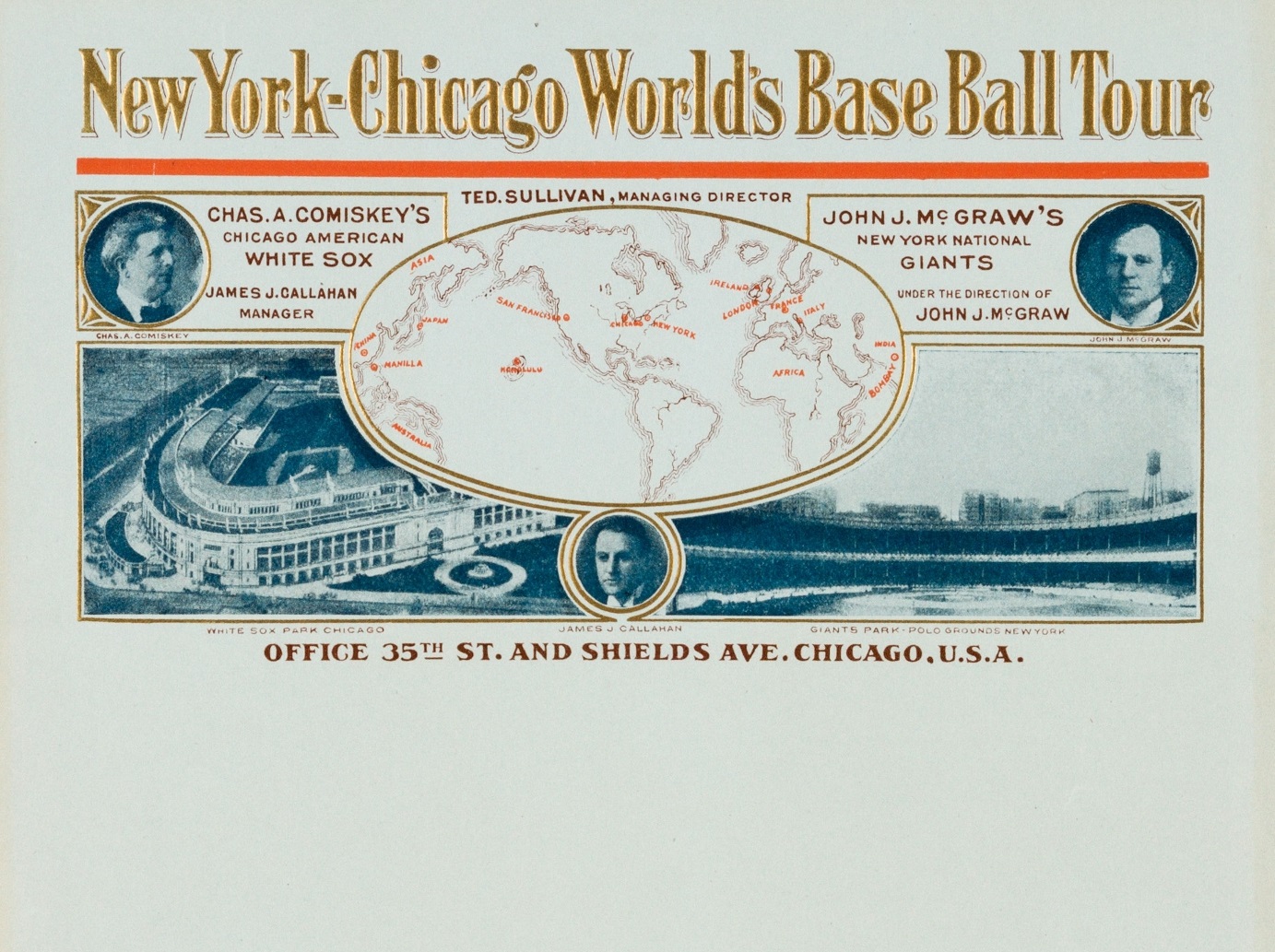 From Paris, the group moved to Great Britain, a country that was not unfamiliar with baseball. With King George attending the game in London, the Chicago White Sox beat the Giants 5-4 in ten innings. Here is some nice footage of that game and pre-game ceremonies in London.
The game in London signaled the end of the world tour and the troop moved back to the United States on board of the Lusitania, the ship that would play a big role in the United States entering World War I three years later.
You may wonder why countries like Spain, Germany, Belgium, and the Netherlands were not scheduled on this world tour. Spain and Germany were big countries as well but perhaps it was not practical to visit those countries. Regarding Belgium and the Netherlands, likely those two small countries were too insignificant to visit. Perhaps the fact that baseball was played in the Netherlands already, even though in a loose way instead of a real competition yet, was the reason to skip the country. But on the other hand, Great Britain was not unfamiliar with baseball either and that country was visited anyway, so that cannot be used as an excuse.
Below the rosters of both teams are shown. What catches the eye is that both teams used players from other MLB franchises.
| | | | | |
| --- | --- | --- | --- | --- |
| NY Giants | | Pos | Chicago White Sox | |
| John McGraw | NY Giants | Mgr | James Callahan | Chicago White Sox |
| Fred Merkle | NY Giants | 1B | Tommy Daly | Chicago White Sox |
| Larry Doyle | NY Giants | 2B | Germany Schaefer | Washington Senators |
| Mike Doolan | Philadelphia Phillies | SS | Buck Weaver | Chicago White Sox |
| Hans Lobert | Philadelphia Phillies | 3B | Dick Egan | Cincinnati Reds |
| Lee Magee | St. Louis Cardinals | LF | Steve Evans | St. Louis Cardinals |
| Mike Donlin | Pittsburgh Pirates | CF | Tris Speaker | Boston Red Sox |
| Jim Thorpe | NY Giants | RF | Sam Crawford | Detroit Tigers |
| Ivy Wingo | St. Louis Cardinals | C | Jack Bliss | St. Louis Browns |
| Hooks Wiltse | NY Giants | P | Joe Benz | Chicago White Sox |
| Red Faber | Chicago White Sox | P | Walter Leverentz | St. Louis Browns |
| Bunny Hearne | NY Giants | P | Jim Scott | Chicago White Sox |
Of the 46 games played, the Chicago White Sox won 24. The New York Giants won 20. Two games ended in a tie. Of the 56-game schedule, twelve games rained out.
Sources: Chicagology, SABR, Smithsonian Magazine.