In this edition of Dutchies around the World, we pay attention to Didi Gregorius, Juremi Profar, Chris Pieters, Isranel Wilson, Kalian Sams, Rick van den Hurk, and Gilmer Lampe.
After a hot start in which Didi Gregorius hit well above .300 his numbers have declined significantly. In his last 22 games, he hit a sub-par .099. Currently, his batting average stands at .236. Last night in the 5-1 loss vs the Houston Astros, Didi got two hits, a single towards left-center field and a single to third base. Of course, his defense is still unparalleled as this clip shows.
Juremi Profar's 2018 numbers stay behind compared to those of 2017 and 2018.  The
Curaçao born player was moved from the roster of the Frisco RoughRiders for a while but is back again. In 21 games, the 22-year old infielder is hitting a sub-par .164. On April 21st, Juremi played his last game at AA level before he was reinstated on May 18. So far he has played in only 21 games and had 73 at bats. He has committed seven errors in nineteen games in the infield: four games at first base, seven at second base and eight at third base.
Chris Pieters' batting average stands at a modest .226 but in his last ten games he has seen the ball a lot better as he went 10 for 36 (.276). The Curaçao born outfielder was promoted to A Advanced Myrtle Beach by the Cubs after the 2017 season. Remarkable feat is that the Cubs signed him as a pitcher but in three seasons at rookie ball in the DSL and VSL, it all didn't pan out as expected. So the Cubs converted him into an outfielder. So far he has committed four errors in right field. He also played one game at first base this season in which he played flawless defense.


As one of the few Dutchies from St. Martin, Isranel Wilson is having a subpar season with the Rome Braves. As he hit .262 with the Rome Braves last season, his BA doesn't top .200 so far (.194). In his last ten games, the outfielder hit better than his seasonal average (.214) but it is still much lower than last year's average. So far he has split forty games between right field and center field. In right field he committed three errors, in center field he played flawlessly.
The CanAm League's season started last week and so far Kalian Sams is doing very well. The Dutch-born outfielder played seven games and collected 8 hits in 25 at-bats (.320) with two home runs, four RBI and two stolen bases. Unfortunately, the stats page of the CanAm League does not show the defensive stats of the players.
Just like his team, the Softbank Hawks, Rick van den Hurk is coming off a slow start.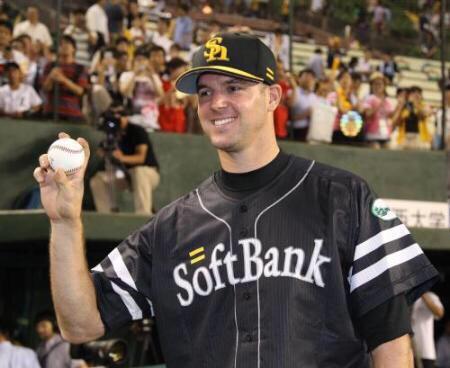 In eight starts, Rick won three games but lost four. As he gave up 47 walks in all of the 2017 season, he has given up 23 already in 2018. Also, the number of runs given up is higher compared to the previous seasons. Currently, his ERA stands at 5.59, which is rather his for him. Right now, the Softbank Hawks are in third place with a 23-23 record, trailing the league-leading Seibu Lions by 4.5 games.
Gilmer Lampe also came off a slow start with Fortitudo Bologna of the Italian Serie A1. He started the regular season on the DL due to a wrist injury but in the meantime, he is playing again. Right in his first game after coming back from the DL, Gilmer launched a home run. Last Saturday, he played a doubleheader vs Nettuno Baseball City. In game one, Gilmer went 3 for 5 and was one home run shy of hitting for the cycle. In the second game, Gilmer collected one hit out of five at-bats. Currently, his batting average stands at a modest .219.