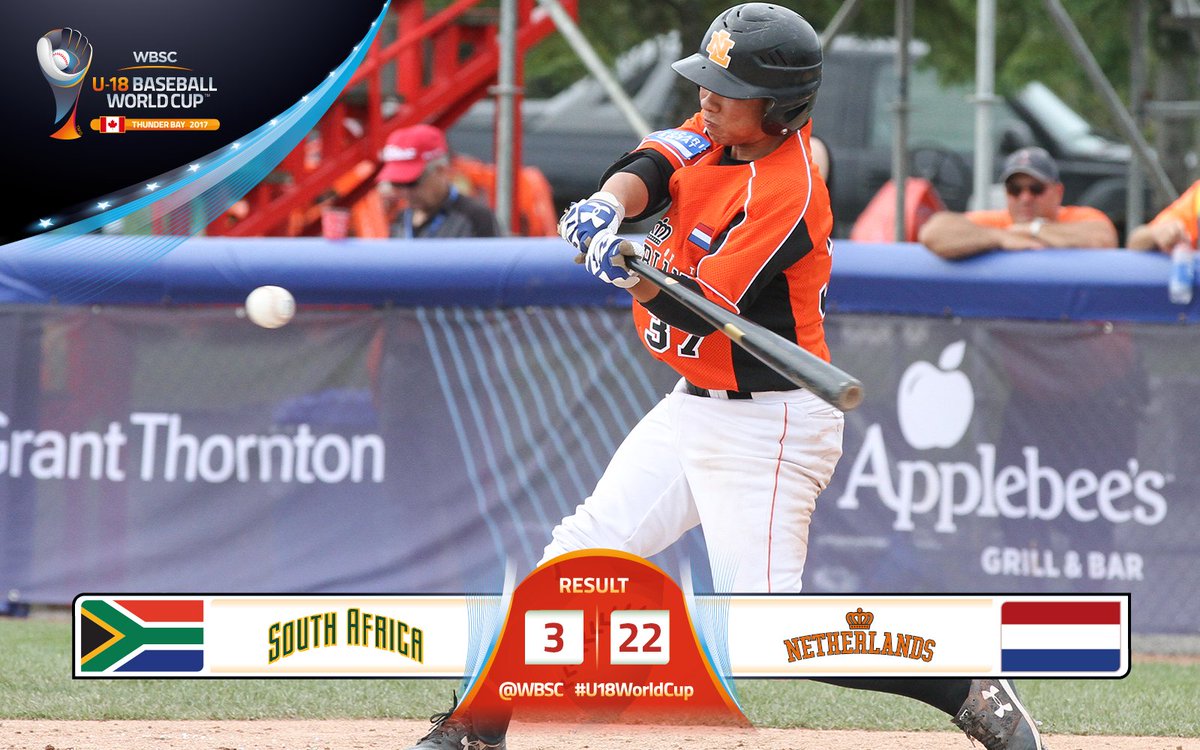 After two losses, the Kingdom of the Netherlands finally clinched its first win.
South Africa appeared to be no match for the Dutch. In a 4.5 -inning mercy rule shortened game, the Dutch trounced their opponent 22-3.
In the first inning, the Kingdom of the Netherlands flexed its muscles and scored fourteen (!) runs and never looked back. After Jeandro Tromp (five pitch walk) and Makesiondon Kelkboom (fielder's choice and an error) got on base, both advanced a base on a wild pitch by Brandon Kyle Smith. Shèrten Apostel then hit towards third base where the South African third baseman bobbled the ball and allowed Tromp and Kelkboom to score and Apostel to advance to second base. Delano Selassa followed with a single to right field on which Shèrten Apostel scored the third run. Right fielder Zunald Alper attempted to throw out Apostel at home plate but the throw was too late. Selassa advanced to second base on the throw and as the catcher tried to throw him out at second, he committed a throwing error that allowed Delano to advance to third base. With a single to center field, Dylan Koster drove in Delano Selassa. Two batters later the bases were loaded and Jeandro Tromp drove in two more runs on a single to center field.Two doubles, two single, a walk and two wild pitches, led to eight more runs to give the Dutch a 14-0 lead.
South Africa did something back in the second inning. With Frensly Leito on the mound, Zunaid Alper drew a walk. After Alper stole second base, Leito retired two batters but nevertheless, he was replaced by Jiorgeni Casimiri. A throwing error allowed Charles Peter van Wijk to reach base and Alper to advance to third. Luke November then drew a walk to load the bases. Joshua Wentzel walked in Alper for the first South African run. South Africa scored two more runs on the single by Tanner Bunn.
Two runs in the bottom of the second and four in the third gave the Dutch a seventeen run lead. A two run home run in the bottom of the fourth by Jeandro Tromp, extended the Dutch lead to 22-3, the final score.
Manager Eric de Bruin used three pitchers in this short game. He started with Frensly Leito, who only pitched 1.2 innings and gave up an unearned run on a hit and a walk and struck out five. He threw thirty-seven pitches of which twenty-four for strikes. Leito was replaced in the second inning by Jiorgeny Casimiri, who gave up two unearned runs on three hits and three walks in 2.1 innings. Jiorgeny struck out one, threw forty-six pitches of which twenty-four were called for strikes and earned the win.
Peter Vogelaar pitched in the top of the fifth and retired the side as he threw seven pitches of which six were strikes.
Best hitter for team Kingdom of the Netherlands was Delano Selassa, who went 3 for 4 with two runs batted in and four runs scored.
Other batting results:
Jeandro Tromp: 2 for 3 with a home run, four RBI, and three runs scored
Makesiondon Kelkboom: 3 for 5 with one RBI and two runs scored.
Richgelon Juliana: 1 for 4 with a double, two RBI and three runs scored.
Shèrten Apostel: 2 for 5 with a double, a RBI and three runs scored.
Dylan Koster: 1 for 3 with a RBI, three runs scored and three walks.
Tijmen Takke: 2 for 3 with two doubles, five RBI, and two runs scored.
Tommy van de Sanden: 1 for 3 with a RBI, a run scored and a walk.
Denzel Bryson: 1 for 3 with a run scored and a walk.
The Dutch outhit South Africa sixteen to four, committed one error and left seven runners on base, which did not really hurt this time. None of the thirteen runs that South African starting pitcher Brandon Smith allowed were earned.
Tomorrow the Dutch will face the tough Samurai Japan team at 8.00 PM (20.00) Dutch time. The game can be seen here.