This time in Dutchies around the world we pay attention to Sharlon Schoop, Jonathan Schoop, Shawn Zarraga, Zander Wiel, Carter Kieboom, Ryan Oduber, Paul Brands, and Dashenko Ricardo.
Jonathan Schoop
Jonathan is having a record setting season. Recently he broke his personal record of single season home runs. Last year he set his PR at 25. On August 15 he broke his record as he hit the 26th of the season. Five days later he added another one to his total.
Jonathan is having a helluva season. After a slow start, he managed to improve at bat and to raise his batting average. Most of the season he has been hovering around .300. Even though his numbers at the start of August stood at .308, his BA now stands at .301, still very respectable. Next to the 27 home runs, he hit 30 doubles and drove in 93 runs.
Unfortunately, the number of errors he committed is also at a career high this season with 12 putting his fielding average at .981.
Sharlon Schoop
The older brother of Jonathan has split the season between AA and AAA. So far he is hitting a modest .203 in 23 games with the Norfolk Tides (AAA, International League). In the 8 games with the Bowie BaySox (AA, Eastern League) he hit significantly better (.348). Unfortunately, Sharlon spends time on the disabled list since July 9. In 23 games Sharlon committed 5 errors; 1 at second base, 4 at shortstop.
Shawn Zarraga

After being released by the Cincinnati Reds just before the start of the season, Shawn found a new home with the Cleburne Railroaders of the independent American Association. Unfortunately, his stay with the indy team did not last long. But soon after the Railroaders released him, he was picked up by one of his former organizations, the Los Angeles Dodgers. Since his signing on July 14, the 28-year old Aruban catcher was placed on and activated from the temporary inactive list several times. Shawn has played only 5 games with the Tulsa Drillers (AA, Texas League) so far in which he collected 5 hits in 17 at bats with 3 doubles and 1 home run. So far he has thrown out 25% of the potential base stealers.
Zander Wiel
Zander Wiel, son of former Los Angeles Lakers assistant coach Randy Wiel, is having a modest season at bat for the Fort Myers Miracle. In 120 games the first baseman/outfielder is hitting .242. Remarkable feat is that Zander is hitting better in away games (.245) than in home games (.238). The difference between day games and night games is literally like day and night as he hits .333 in day games and .224 in night games. His best month so far was the month of August as he hit .282.
In 76 games at first base, Zander committed 9 errors. In 14 games in left field, he had 2 miscues.
Carter Kieboom
After a very long stint on the disabled list, Carter Kieboom is back with the Hagerstown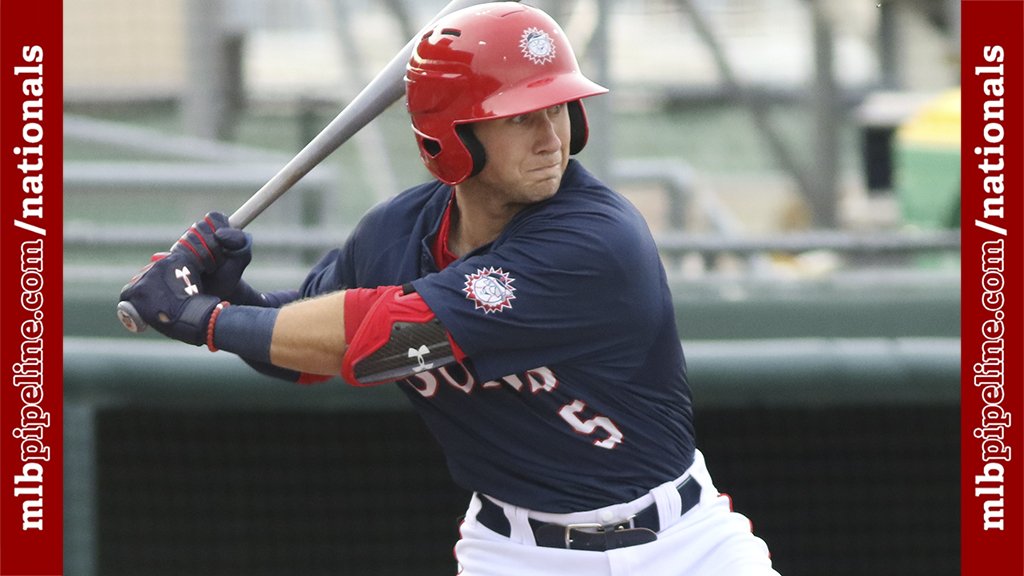 Suns. After rehab stints with the GCL Nationals and the Auburn DoubleDays, Carter was placed on the Suns' roster on August 15. Since his return from the DL, Carter's BA has been slipping down from .322 to .289. In the 10 games he played since his return, he collected 6 hits in 38 at bats and managed to hit one home run.
As this is only his first full professional season, one may not read too much into it, but in 37 games with the Suns, Carter committed 7 errors, resulting in a fielding percentage of .951. So there is room for improvement when it comes to that.
Ryan Oduber
After spending three seasons at rookie level (two at DSL and one at GCL), the Aruban relief pitcher Ryan Oduber has been promoted to the Lowell Spinners (A Short Season affiliate of the Boston Red Sox in the New York – Penn League). With the Spinners, Ryan made 15 appearances and managed to post a 1-1 record with a 5.27 ERA.
Apparently, Ryan has to get used to the level at rookie level were much better. So far his WHIP stands at 1.72 and his opponents hit .322 with him on the mound.
Paul Brands
Haarlem native Paul Brands is playing for the Bristol Pirates of the Appalachian League (advanced rookie) this season. So far, Paul is doing a decent job behind the plate. In 28 games he committed 3 errors and threw out 28% of the potential base stealers.
At the plate, Paul is struggling at times. So far he is hitting a modest .223 for the season. In his last ten games, he managed to collect multiple base hits in a game twice. On August 4, he went 3 for 5 against the Kingsport Mets. Yesterday, August 24, Paul went 2 for 4 with a double and 3 RBI.
Dashenko Ricardo
The third catcher in this report, Dashenko Ricardo, is playing for the Lincoln Saltdogs.
With the Saltdogs, he is hitting a decent .273, which makes clear there is quite a difference between the Dutch hoofdklasse, where Dashenko played in the past three seasons, and the American Association. After a year of adaption in 2014, Dashenko hit .420 in 2015 and .404 in 2016. Of the 59 hits he collected this season, 7 were doubles and 6 were home runs. In 59 games with the Saltdogs, Dashenko committed 4 errors (fielding percentage of .992) and threw out 27 % of the potential base stealers.
His best game at bat so far was on July 17 against the Cleburne Railroaders when he went 4 for 4 with a double, a home run and 3 RBI.