On the first day of the twelfth round, HCAWhosterd L&D Amsterdam Pirates, Hoofddorp Pioniers headed to Rotterdam to take on Curaçao Neptunus and Pickles UVV hosted DSS from Haarlem.
L&D Amsterdam Pirates  2  –  0  HCAW
A close game in Bussum. After L&D Amsterdam Pirates had a runner in scoring position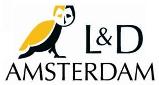 in the first inning, the team did not cash in. But in the top of the second inning, Pirates took a 1-0 lead. Back-to-back singles by Kenny Berkenbosch and Linoy Croes, followed by a sac bunt laid down by Rachid Gerard, put runners in scoring position for Pirates. Max Clarijs followed with a foul out to the foul territory adjacent to right field on which Kenny Berkenbosch could score the opening game.
In the sixth inning, Zerzinho Croes and Gilmer Lampe hit consecutive singles. Both advanced a base on a wild pitch by Jim Ploeger. A sac fly to left field by Linoy Croes drove in Zerzinho Croes for the 2-0.
In the meantime, Rob Cordemans cruised through the eight innings. In each inning, he faced the minimum number of batters, despite giving up four singles.
In the first inning, Roelie Henrique singled but was thrown out at a stealing attempt. In the other innings in which he gave up a single, HCAW hit into double plays so he got out of the inning without any damage.

But in the ninth, Cordemans was relieved by Daan Hendrix who gave up one hit to Dylan Koster but retired the other three hitters he faced for the save. Rob Cordemans earned the win, pitching eight shutout innings, allowing four hits and striking out six. Jim Ploeger took the loss after pitching seven innings in which he gave up two runs on six hits and two walks and struck out three.
Best hitter for L&D Amsterdam Pirates was Kenny Berkenbosch, who went 2 for 3 with a double and a run scored.
 Curaçao Neptunus   –   Hoofddorp Pioniers
Until the fifth inning this game was a close one but in the fifth inning, Curaçao Neptunus
walked away. Neptunus took the lead in the second inning when it scored two runs. Gianison Boekhoudt led off with a single up the middle, followed by Daniel Fernandes, who drew a walk. Boekhoudt, not the quickest runner, executed a double steal with Fernandes to give Neptunus two runners in scoring position. After Lars Huijer retired the next two hitters, Shaldimar Daantji singled up the middle to drive in two runs.
But Hoofddorp Pioniers cut the lead in half in the bottom of the second. Max Draijer led off with a double and scored on Glenn Bakker's single.
With runners on first and second in the top of the fifth inning, Neptunus executed another double steal to bring Shaldimar Daantji and Stijn van der Meer in scoring position. When Benjamin Dille singled to right field, Daantji and Van der Meer crossed home plate. After Dille advanced on a throwing error on what should have been a force out at second base, he scored on a single to center field, hit by Gianison Boekhoudt.
In the bottom of the fifth inning, Jeffrey Arends homered to left field so Pioniers inched closer to Neptunus. But eventually, Neptunus really walked away as the team scored two runs in the seventh and one run in the eighth innings.
Diegomar Markwell worked his way through six innings, giving up two runs on eight hits as he struck out four. His successor, Loek van Mil, pitched the next two innings in which he remained perfect and fanned two.

Jan Tomek pitched the final inning for Neptunus and only gave up a single to Shurman Marlin.
Diegomar Markwell earned the win, Lars Huijer took the loss as he pitched six innings in which he gave up five runs (four earned) on five hits and three walks and struck out seven.
Luuk ter Beek pitched the final inning for Pioniers. The 16-year old debuted in the Hoofdklasse and pitched a perfect frame, striking out one.
Best hitter for Curaçao Neptunus was Benjamin Dille, who went 4 for 5 with a double, two RBI and two runs scored.

DSS    –    Pickles UVV
Another close game in Utrecht where Pickles UVV took a 2-0 lead in the third inning.

With runners on first and second, back-to-back singles by Mike Bazuin and Julian Rip, allowed Rick Kuipers and Tijmen Takke to score.
But DSS bounced back in the next inning. Omar Williams led off with a double to center field, followed by Tino van Erk, who was hit by a pitch. Both advanced a base when Tommy van de Sanden laid down a sac bunt. Sven van der Sanden hit a sac fly to center field to drive in Omar Williams. In the fifth inning DSS rallied to take the lead. Kevin Nieveld hit a leadoff triple to center field, followed by Odion Gouverneur, who came through with a single to right center field. DSS loaded the bases after Omar Williams and Tino van Erk drew consecutive walks. Tommy van de Sanden then hit a sac fly to right field to drive in Omar Williams for the 3-2 lead.
In the top of the sixth inning, DSS added another run to their score when reliever Jeremy Angela gave up consecutive walks, Koen Halderman singled home Mitchel Dautzenberg from second to give DSS a 4-2 lead. Jeremy Angela wasn't able to stop the offense of DSS as he gave up four runs before recording the first out of the eighth inning.
Jonah van Bemmelen replaced Angela and got out of the inning without further damage.

Despite giving up two runs in the third inning, Byron Cornelisse cruised through seven innings, limiting them to six hits. Cornelisse was replaced by Robyn Clara in the eighth inning, who retired the side. Thanks to the curfew rule, the game was called at 22:30 (11:30 PM).
Byron Cornelisse earned the win. He walked three and struck out nine.
Timo van Ancum took the loss. He gave up three runs on five hits and five walks as he struck out one.


The best hitter for DSS was Mitchel Dautzenberg, who went 2 for 3 with two RBI and a run scored.
This report is brought to you by Score66 Baseball