The Spokane Indians have earned a spot in the baseball Hall of Fame in Cooperstown. Since 2006 the team is cooperating with the Spokane Tribe of Indians. This cooperation now has earned a place in the HOF. 
The Spokane Indians (A-Short Season affiliate of the Texas Rangers in the Northwest League) signed a deal with the Spokane Tribe in 2006. The deal comprised a Spokane Tribal Salish version of the logo, which has been stitched on the team's sleeves since its inception. In 2014, the baseball team announced a new alternate jersey with "Spokane"
written in the Spokane Tribe's traditional Salish language. The Salish language is proudly displayed across the front of the jersey, and the team now wears that uniform for all home games.
"The Spokane Tribe and the baseball organization have built a lasting partnership that helps bring a positive spotlight to our tribal culture, our important history within the region, and our people," said Carol Evans of the Spokane Tribal Council Chair.
The (baseball) Indians have donated one of their game-used Salish jerseys to the Hall of Fame museum's permanent collection, as well as various other documents and images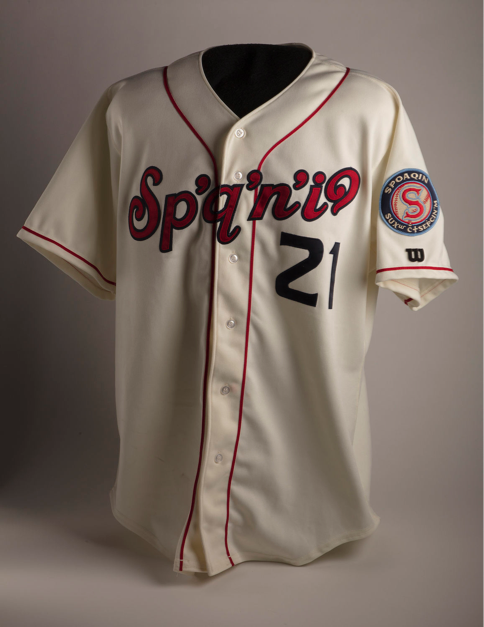 about the team and Tribe's relationship to the education collection.
The team will also be wearing the Spokane Tribe's traditional Salish markings on all road jerseys starting the 2017 season in order to spread the positive message in other Northwest League markets. In addition, Tribal Markers, documenting the history of the tribe and its relationship with the team, will be shown throughout Avista Stadium, home of the Indians, for the enjoyment and education of fans.
Senior Vice President of the Spokane Indians, Otto Klein stated: "We're extremely proud of our close relationship with the Spokane Tribe of Indians and appreciate tribal membership allowing us to be a vehicle to appropriately and respectfully promote their traditional language and culture. We hope our donation to the Hall of Fame will illustrate to fans, students, and other organizations how a team and tribe can work together for the benefit of everyone."