Curaçao-born baseball player Wladimir Balentien has announced his retirement. Last year, you could read here that Balentien already hinted at his retirement. Now the word is out.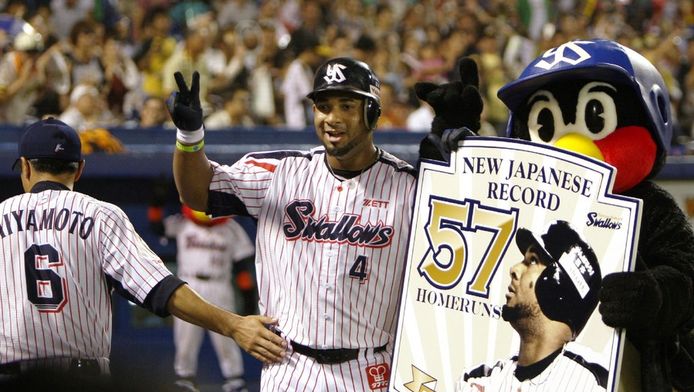 Always known as a hitter with a powerful bat, Balentien broke into the Majors in 2007 with the Seattle Mariners. In that season, he played only three games in which he batted a promising .667. Unfortunately, he could not keep up with those numbers in the following two seasons when he hit .202 and .234. In 2009, the Mariners traded him to the Cincinnati Reds. Balentien spent the entire 2010 season with the AAA Louisville Bats before electing free agency.

He opted to go to Japan and joined the Yakult Swallows, where he had the best years of his career. Average-wise, he struggled at the plate that year as he hit a sub-par .228. But in that same season, he belted thirty-one home runs, an omen of what was about to come.
In the following seasons, he would hit thirty-two and thirty-one home runs before he reached the summit of his career in 2013.

In that year, Balentien managed to break the seasonal record of 55 home runs set by the legendary Sadaharu Oh in 1964. In the past, several gaijins (foreign players) challenged this record but were not given the chance to beat it as pitchers refused to throw strikes. In 2013, this would be different. The whole season, Balentien was on pace to break Oh's record, and on August 29, he hit his fifty-first home run of the season. With a bit more than a month to go, many speculated that he would break Oh's record. Twelve days later, on September 10, Balentien tied Oh's record just like Tuffy Rhodes and Alex Cabrera did, but they didn't get any good pitches afterward. On September 15, Balentien hit homer fifty-six and fifty-seven to get in sole possession of the NPB seasonal record. Eventually, he would hit sixty home runs that season.

In the following years, despite being plagued by injuries, his seasonal numbers would hover between thirty and thirty-five home runs. After the 2019 season, Balentien decided to accept an offer from the SoftBank Hawks, so he became a teammate of Dutchy Rick van den Hurk. Unfortunately, Balentien could not live up to the expectations and played the biggest part of his contract with the Ni-Gun (farm) team of the Hawks in the Western League.

At the end of the 2021 season, Balentien already hinted at retirement but also stated that he would love to finish his career with the Yakult Swallows. This didn't happen.

Wladimir Balentien retires with eleven NPB seasons under his belt in which he 301 home runs and batted .266.