Earlier this year, the Beloit Snappers put their rebranding on hold. The intention was to adopt a new name with the opening of their new ballpark. But as the construction of the ballpark was delayed, the club decided to postpone the rebrand.

After twenty years or so, the club decided it was time for a new moniker and look. So as a result, the club organized a name the team contest. Eventually five names were left to choose from: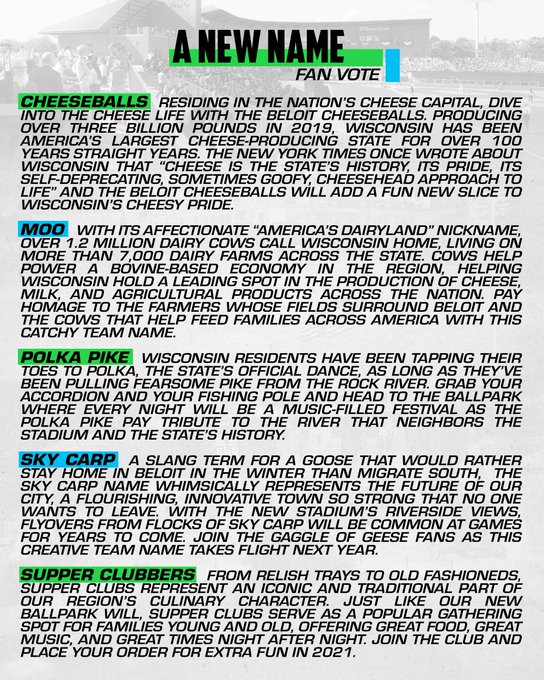 Most of the Snappers fans showed their displeasure with the options and yours truly must admit, they aren't the best. But of these five, I think Moo is the best one. For the change it is not an outrageous name like Jumbo Shrimp, Rumble Ponies, or Mighty Mussels. It is short and simple. Quite a relief compared to the aforementioned names. And guess what the club can do with a name like that. Hats with a cow skin pattern on it, the same for the jerseys. But in the latter case, this cow skin pattern would be better suited for an alternate jersey.

Anyhow, since the construction of the ballpark was delayed, the club put the rebranding on hold. It said it wanted to give the Snappers a goodbye season. But I think the real reason behind this is that MiLB doesn't allow teams to rebrand during the season. And since the ballpark will be ready only next week, the supposed rebranding was a no-no.

The Dutch Baseball Hangout asked the club for some information, and the club confirmed that the rebranding will take place this fall, likely in October.

As you all know that yours truly is a baseball cap and uniform nut, he is looking forward to the new look of the team. And he will cross his fingers that Moo will be the new name.