After the Yomiuri Giants did not stand a chance against the SoftBank Hawks yesterday, the team from Tokyo looked to rebound in game two. For the Giants, pitcher Oshiro Imamura took the mound. The SoftBank Hawks sent Kai Ishikawa out to start the game.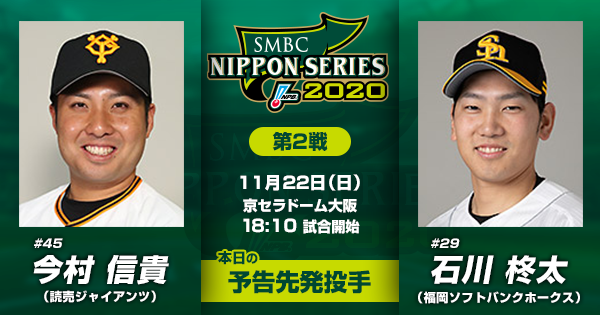 Just like yesterday, it wasn't much of a game as the Giants' lineup was totally dominated by the Hawks' pitching. Besides that, the offense of the Hawks came through at the right moments.  The Hawks had a walk over today as they beat the Giants 13-2.
The SoftBank Hawks were quick off the mark as they took a 3-0 lead in the first inning.
A walk by Keizo Kawashima, a double to deep center field by Yuki Yanagita, a single towards second base by Yurisbel Gracial and a 5-3 groundout, hit by Alfrede Despaigne drove in the three runs.
A towering home run in the second inning by Takuya Kai, extended the Hawks' lead to four runs. Oshiro Imamura did not survive the second inning as he was pulled with two outs and replaced by Shosei Togo, who struck out Keizo Kawashima for the final out of the inning.
With a runner on board, Yurisbel Gracial hit a dinger run to left center field to extend the lead to 6-0 in only the third inning.  It was the Cuban's first home run of the Series.
In the remainder of the game, the Hawks added seven more runs to their total, partially thanks to a grand slam home run by Alfredo Despaigne in the seventh.
In the fifth frame, the Giants' offense lived up a bit when Zealous Wheeler hit a home run after Hiroyuki Nakajima was hit by a pitch. But that was all the Giants' offense was capable of.
The SoftBank Hawks used five pitchers and each and one of them was dominant. Starting pitcher Ishikawa pitched 5.1 innings, gave up four hits, walked one and struck out seven for the win. Of the other four pitchers only Arata Shiino allowed a hit and a total of two walks were allowed by the relievers.
Despite getting just one hit in three at-bats, Alfredo Despaigne drove in the most runs of the game with a total of six. One thanks to a sac fly, one on a groundout and four thanks to the aforementioned grand slam.
After two games in which the Yomiuri Giants did not stand a chance, one can wonder what the state of the Central League is. The Giants pretty much dominated that league this year (without any inter league play) but the team was wiped out twice by the SoftBank Hawks so far.
Now the circus moves to Fukuoka where the next two or three (if necessary)games will be played.
But with the current display of power by the SoftBank Hawks, don't be surprised if the Yomiuri Giants will be swept.