Every baseball fan has heard of the Yomiuri Giants. The team plays at the Tokio Dome, located in Bunkyo, Tokyo. The team is the oldest of the professional teams of the NPB. This is the story how the club got its name.
Japan first got a view of baseball in 1872 when Horace Wilson, an English professor at the Kaisei Academy in Tokyo, introduced the game as a school sport. From there the sport became widespread and by far the most popular sport in Japan. The Japanese word for baseball is Yakyu which literally means Field Ball.


After professional baseball set foot in Japan in 1920, it took another fourteen years before the predecessor of the Yomiuri Giants was founded. In 1934 the club saw light as The Great Japan Tokyo Baseball Club, "Dai NipponTokyo Yakyu Kurabo" in Japanese. It was a team of star players  which was organized by media mogul Matsutaro Shoriki. The team would face an American All-Star team with players like Babe Ruth, Lou Gehrig, Jimmie Foxx and Charlie Gehringer. After the matchups with the US All-Star team, Shoriki moved on with the The Great Japan Tokyo Baseball Club and joined an independent league.
When the Japanese Baseball League was formed in 1936, the team joined the league and promptly won eight championships in a row. The team would play under the name Tokyo Kyojin which means big people, so giants. Part of the team was Russian-born Victor Starffin.
As the Kyojin toured the north American continent in a barn storming tour, in which the team would also face the Asahi from Vancouver, former Major Leaguer and now promoter Lefty O'Doul convinced Shoriki to adopt a more fitting baseball name: Tokyo Giants.
O'Doul was a journey man who played for several MLB clubs in a 15-year career. He joined the New York Giants twice: 1928 and 1933-1934.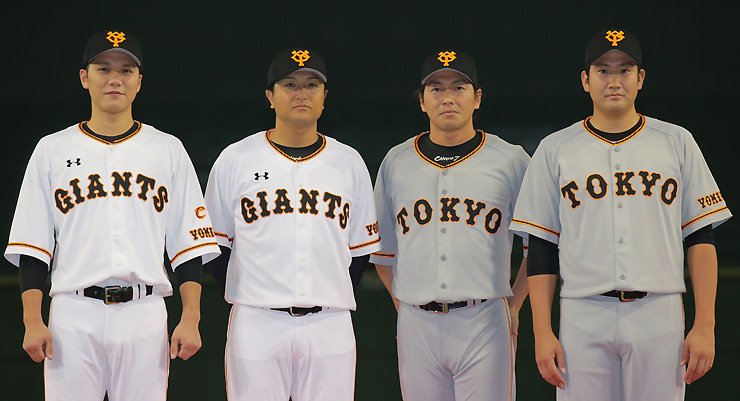 Eventually the adoption of the Giants moniker also led to the adoption of the colors of the Giants. From 1933-1935, the New York Giants had orange and black as their main colors, a combination that would become their trade mark from 1947. Nowadays the Yomiruri Giants's uniform looks rather similar to that of the San Francisco Giants.
In 1947, the Tokyo Kyojin would rename itself into Yomiuri Giants. In 1950, the Giants would be one of the founding members of the NPB.