In their first game of the U23 World Cup in and against host nation Colombia, six errors led to three unearned runs for the South Americans as the Dutch fell 9-5.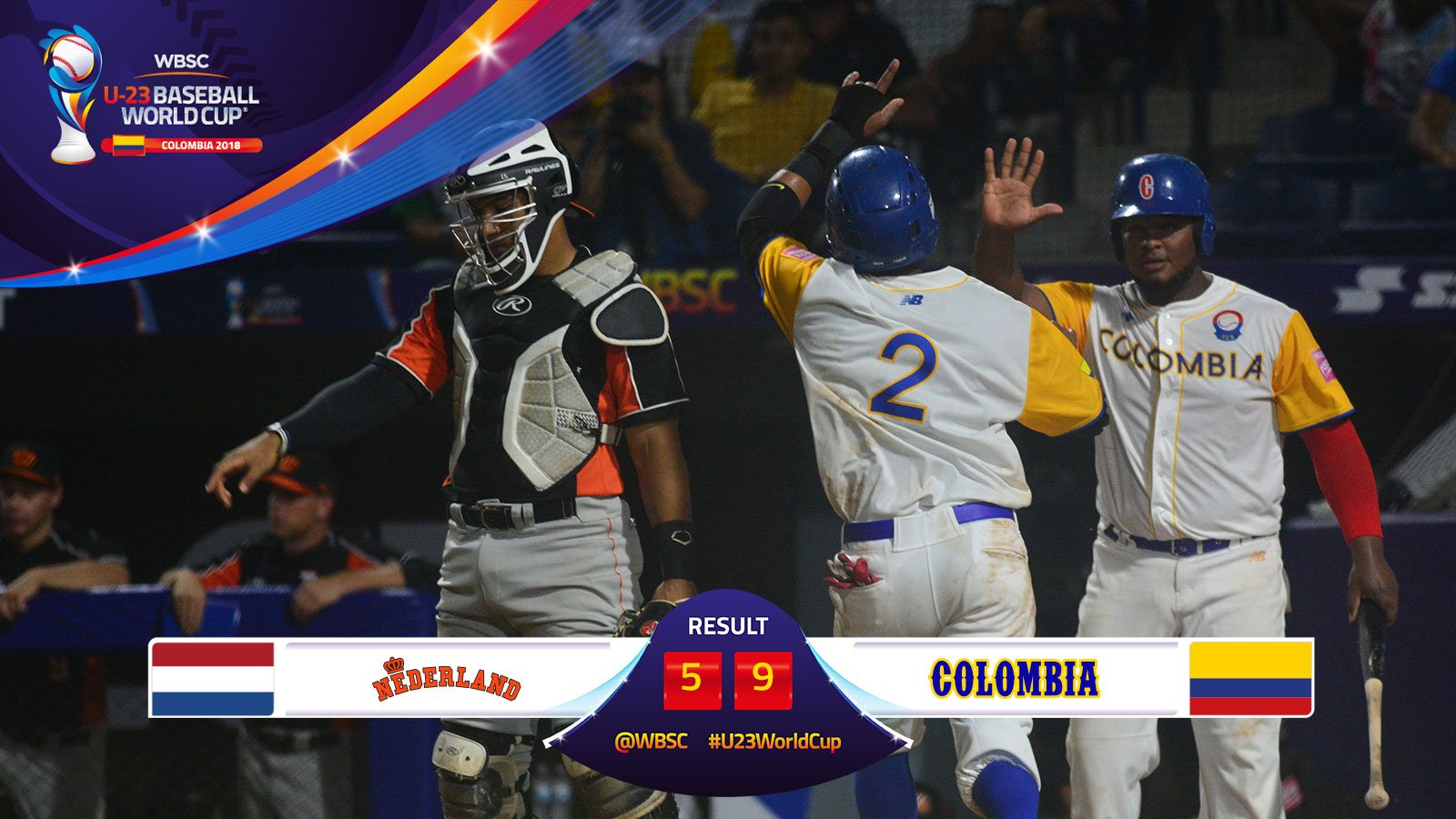 Of the three pitchers manager Sidney de Jong used, Kaj Timmermans lasted the longest. In 4.1 innings, he gave up five runs (two earned) on four hits and struck out four. His successor, Colin van Laar, lasted 1.2 innings in which he gave up two earned runs on two hits and two walks as he also struck out four. The third Dutch pitcher, Maickel Rietel allowed two earned runs on four hits and a walk and fanned one.
After Colombia had taken a 5-0 lead, the Dutch got on the board in the top of the sixth inning eventually. When, with two outs, Francinel Martina singled up the middle, Rachid Engelhardt could score from second base. In the next inning, the Dutch had a golden opportunity to get closer in the game when Ruar Verkerk led off with a double and Delano Selassa drew a walk. But the next three hitters were not able to move the runners further and thus the inning went by without a run for the Kingdom of the Netherlands.
But in the eighth inning, three hits were enough to jump ahead. Singles by Aldrich de Jongh and Shèrten Apostel put runners on first and second before Francinel Martina connected for a home run to left center field.
In the top of the ninth, the Dutch started a rally with two outs that started with a triple to left center field, hit by Aldrich de Jongh. De Jongh scored on Shèrten Apostel's single through the left side. A fielding error and a walk loaded the bases but then the Colombian manager brought in Jhon Jairo Romero Rodriguez, who has an impressive minor league career with the Cubs and the Nationals so far, to shut the door. He served up the pitch on which Ruar Verkerk grounded out (4-3) for the final out of the inning.
Sure without the three unearned runs, the Kingdom of the Netherlands would have lost as well. But a 6-5 score is more bearable than losing by four runs.
Other results in group A: Japan used the long ball to beat South Africa 13-0 and Mexico pulled off a stunt vs Taiwan as they beat the islanders 2-1. In group B Venezuela beat Australia 4-2, Korea beat the Czech Republic 14-3 and the Dominican Republic beat Puerto Rico 9-6.
Today the Kingdom of the Netherlands will face Mexico at 15:00 (3 PM) Colombian time (10:00 CET).