The second loss in as many games. After the loss vs Colombia, the Dutch fell to Mexico yesterday. The problem wasn't the offense as the Dutch collected twelve hits but merely the pitching that gave up fourteen runs on sixteen hits and six walks. As a result, the Kingdom of the Netherlands fell to Mexico 14-7.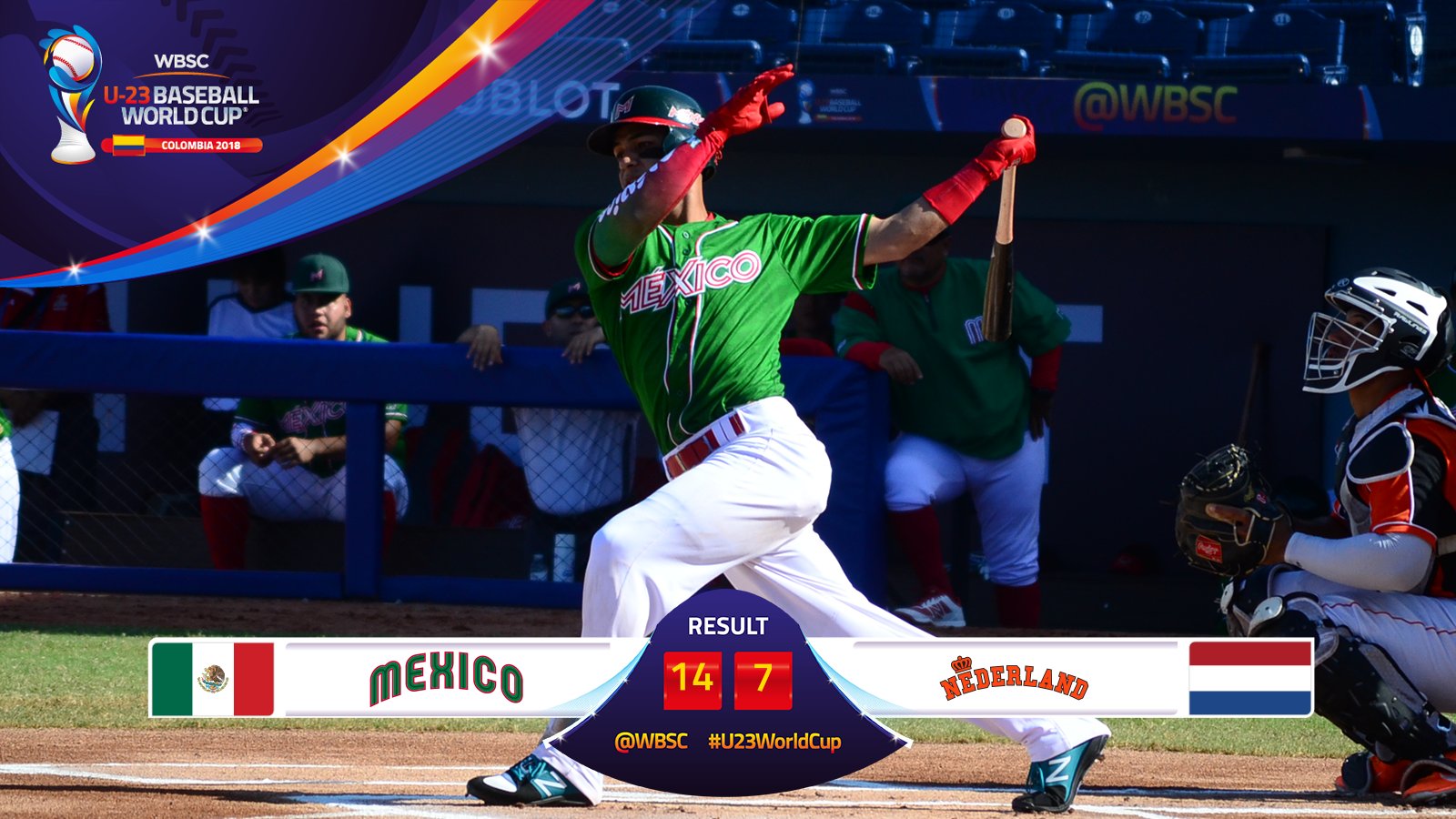 The choice for Wendell Floranus did not pan out very well. Floranus lasted four innings in which he struck out an impressive eight batters but also gave up five earned runs on seven hits and two walks. By the time he was pulled, the Mexicans had turned the tables and had taken a 5-3 lead.
Of the six pitchers, manager Sidney de Jong used, only Mike Groen (0.1 innings) and Ruwensly Bonifacio (0.1 innings) did not allow a run. From the fourth inning, Mexico scored at least a run per inning compared to the Dutch only four in the sixth.
As written in the introduction, the offense performed pretty well. Unfortunately, it wasn't enough to support the pitching. Normally one would win a game, scoring seven runs.
After Mexico took a 2-0 lead in the top of the first inning, the Kingdom of the Netherlands bounced back in the bottom of that same inning. With two outs, Francinel Martina hit a single to right-center field that ignited a three-run rally. After Stephan Vidal singled, Ruar Verkerk continued what he has done rather well during the hoofdklasse season; hitting extra base hits. Verkerk tripled to deep right-center field to drive in Martina and Vidal. Verkerk himself could score thanks to a single hit by Tijmen Takke.
In the sixth inning, with two outs (again), the Dutch started another rally. With the bases loaded, Rachid Engelhardt up the middle to drive in Tijmen Takke and Delano Selassa. Aldrich de Jongh followed with a single to center field that drove in Tommy van de Sanden and moved Rachid Engelhardt to third base, from where he could score on a wild pitch.
Best hitter for Kingdom of the Netherlands was Francinel Martina, who went 3 for 5. The most impact had Ruar Verkerk and Rachid Engelhardt who both drove in two runs. Verkerk went 2 for 5 with a triple and a run scored and Engelhardt went 1 for 3 with a run scored.
Next to the good offense, another bright spot was the defense as the Dutch played flawless baseball yesterday. If pitching coach Rob Cordemans can get the pitching back on track, this team may be capable of some nice surprises.
Other results of Group A: Japan beat Taiwan 3-1 and Colombia routed South Africa in seven innings 11-0. Results of Group B: Australia had to go deep to beat the Czech Republic 5-3, the Dominican Republic beat Korea 8-2 and Venezuela was too strong for Puerto Rico as they won 7-2.