On the first day of round thirteen, Curaçao Neptunus hosted Pickles UVV in a game with a somewhat flattered result, De Glaskoning Twins "hosted" HCAW and L&D Amsterdam Pirates was the home team vs Hoofddorp Pioniers.
Pickles UVV  2  –  12  Curaçao Neptunus
Curaçao Neptunus struck first in this game vs Pickles UVV. In the third inning, it looked like the team would walk away early as it scored three runs in the second inning.
Dwayne Kemp led off with a surprise bunt, followed by Christian Diaz, who drew a four pitch walk. After Daniel Fernandes flied out, Kemp and Diaz executed a double steal to put runners on which catcher Julian Goins committed a throwing error that allowed Kemp to score the opening run. After Gregory Muller drew a walk, Jochem Koedijk singled hom Christian Diaz. When Jochem Koedijk stole second, Gregory Muller could score on the throw to second base.
But UVV would get back in the game in the fifth inning. With the bases loaded, Tijmen Takke singled through the left side and allowed Jordan Illis and Jelle Blaauw. In the previous ining, UVV had a chance to get on the board already, but with a runner on third, Mike Bazuin grounded into an inning ending forceout at second.
Gianison Boekhoudt would extend the lead to two runs in the bottom of the fifth as he hit a solo home run. Thanks to a couple of extra base hits in the sixth and the seventh,
Neptunus managed to walk away to an 8-2 lead. A bunch of singles and doubles, drove in four more runs to end this game prematurely in seventh inning thanks to the mercy rule.
Diegomar pitched a "complete" game in which he gave up two runs on four hits and two walks and struck out six. Timo van Ancum took the loss. In six innings he gave up five runs on seven hits and three walks as he struck out one.
Best hitter for Curaçao Neptunus was Jochem Koedijk, who went 3 for 4 with a RBI and a run scored.
HCAW  2  –  1  De Glaskoning Twins
A close game between De Glaskoning Twins and HCAW. Both teams scored in the first
inning. HCAW took a 2-0 lead as it loaded the bases on a single, a HBP and a walk before Rachid Engelhardt hit a sac fly to center field that drove in Delano Selassa. Rowan
van Hoek loaded the bases again on a single towards first base. A single by Seb Visser drove in Kevin Dirksen. Twins would cut the lead in half in the bottom of that inning when Jamie Verheyleweghen scored from second on Melvin Perdue's single to center field.  In the next six innings, a nice pitching duel developed. After giving up two runs in the first, Jan Evertse kept HCAW on a leash rather well. Nevertheless he was replaced by Daisuke Yamashita in the top of the sixth inning. Jim Ploeger cruised through seven innings after giving up a run in the first. Yamashita pitched two perfect innings before he was replaced by Ibo Redan. Redan recorded two quick outs in the eighth inning before giving up a run. Rachid Engelhardt singled to left field and was driven in on Rowan van Hoek's double to center field. Despite putting runners on base in the final two innings, Twins did not manage to score anymore.

Jim Ploeger pitched seven innings for the win. He gave up one run on five hits and three walks and struck out five. Despite pitching a good game, Jan Evertse took the loss. He gave up two runs on five hits and two walks and fanned one. Oscar Meuris earned the save as he struck out one and allowed one hit in one inning of work.
Best hitter for HCAW was Rowan van Hoek, who went 2 for 4 with a double and a RBI.
Hoofddorp Pioniers    –    L&D Amsterdam Pirates
Also in this game, Hoofddorp Pioniers appeared to be a giant killer. After beating Neptunus twice last week, the team took one point with them back to Hoofddorp.
Also in this close game, the two opponents scored in the first inning. Hoofddorp Pioniers took
a 2-0 lead when Jeffrey Arends hit a two-out two-run home run. But Pirates would could the lead in half when Gilmer Lampe singled up the middel to drive in Remco Draijer from second base. Three innings later, Pioniers added another run when Mark Smit doubled home Quentin de Cuba.
In the meantime, Lars Huijer cruised through five innings in which he gave up one run on five hits and two walks while he struck out six. Rob Cordemans also pitched a decent game. he lasted seven innings and gave up three runs on five hits and a walk and struck out seven.
In the fifth and the sixth inning, Pirates had a runner on third but in both innings the team failed to cash in. That moment came in the eighth inning.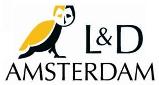 Danny Rombley led off the eighth with a four pitch walk. Rachid Gerard entered the game as pinch hitter for Patrick Bok and tripled home Rombley. Gerard scored himself on Max Clarijs' single up the middle to tie the game at three.
After the Pirates pitching retired the side in the top of the ninth, Pirates did not score either, so the game ended in a 3-3 tie thanks to the dreaded curfew rule, which doesn't allow a night game to continue after 10.30 PM.
This report is brought to you by Score66 Baseball