A bit later than expected, as the club has told the Dutch Baseball Hangout that the rebrand would be somewhere in October, but eventually it happened today. The new name of the Snappers is Sky Carp.

I hear you say: "What's a Sky Carp?" A Sky Carp is slang for a goose that doesn't migrate in the winter. According to the club's website, the Sky Carp name represents the city of Beloit, a flourishing, innovative town so vibrant and strong that no one wants to leave.

Since the club moved into a brand new ballpark during the 2021 season, it felt there was a need for a new identity that would fit the new ballpark. But since MiLB doesn't allow clubs to rebrand during the season, the Snappers had to wait until after the 2021 campaign.

Like many other clubs, the club contacted Brandiose to create their new look. Yours truly must say, Brandiose succeeded in this. I am not fond of the name, but the logos are pretty nice.

Immediately after the conclusion of the fan vote, Brandiose artists went to work to bring the winning name to life, presenting a series of initial sketches of potential logo designs to the Beloit Baseball team.

The fans could choose of five names, of which I thought Moo was the best one, but in collegiate ball, there already is a ball club with that name, so it is understandable that that name was not chosen.

An industrial wrench is playing an important role in the logos as it stands for the continuation of building Beloit into the best place to live in the world.

The club presented four new caps which match the colors of the parent club Miami Marlins.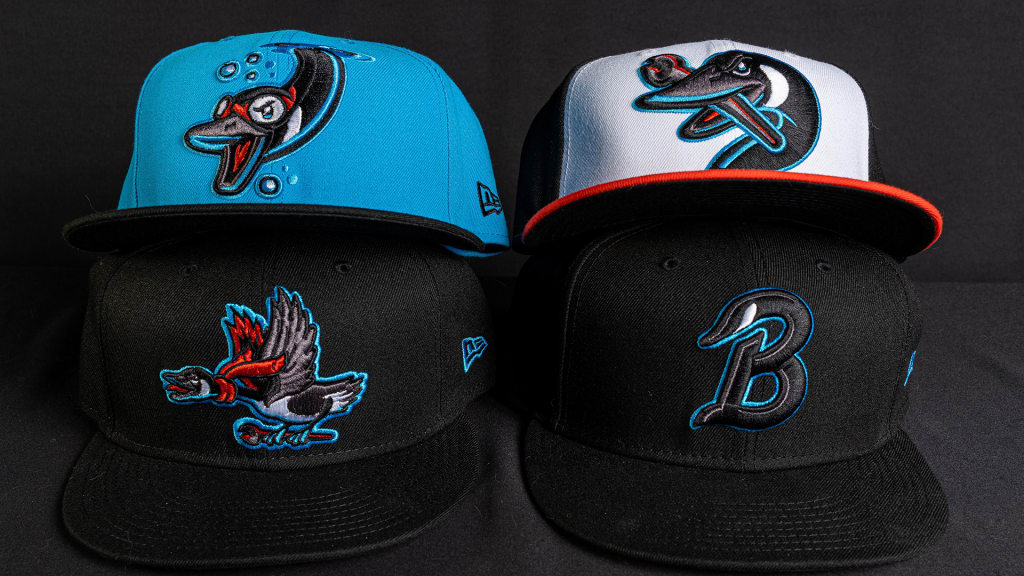 Of course, the club also comes with a set of new jerseys.

First of all the alternate jersey. This comes in the same shade of blue the Miami Marlins' alternate jersey. The normal road jersey comes in traditional grey. Both jerseys sport the name Beloit in a playful way. The capital B contains a goose head.
The home jersey is in traditional white and sports the name Sky Carp on the front. Both the letters S and C do also sport a goose head. There is also an all-black pullover jersey. Likely this is the batting practice jersey.

It must be said that the new look is awesome. It makes up a lot for the name of the club.