Isotopes Park, home of the Albuquerque Isotopes is a state of the art ballpark even though it is almost sixteen years old. The earth colors fit very well in the New Mexico desert landscape.
A lot in this ballpark breathes Simpsons. This all is linked to an episode of the Matt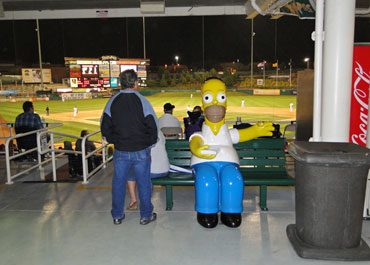 Groening cartoon. In that specific episode, Homer Simpson's favorite baseball team, the Springfield Isotopes, move to Albuquerque. When the Calgary Cannons moved from Canada to Albuquerque, the team adopted the name Isotopes with a nod to that Simpsons episode.  In keeping with an atomic theme, the park's main concourse sports two life-size statues of Marge and Homer "nuclear power worker" Simpson sitting on benches and enjoying a game.

Albuquerque had been home to the Albuquerque Dukes for 38 years, first as AA team (Texas League) and since 1972 as AAA team (Pacific Coast League). After the team was sold to an ownership group who moved the team to Portland where it became the Beavers, Albuquerque was stuck without professional baseball. Since the ballpark of the Dukes was one of the oldest in the Pacific Coast League, it was hard to lure a club to the city.

Eventually, an ownership group bought the Calgary Cannons and moved them to Albuquerque on the condition that the city of Albuquerque would build a new ballpark.
Since the mayor of Albuquerque could not convince the opposition, so he put the issue to a vote and the voters easily approved the $25 million needed to finance the project. The ballpark was opened on April 11, 2003, after a construction period of a year and a half. Isotopes Park was one of the trendsetters in Minor League Baseball as it was designed with some aesthetics while other ballparks were just made for baseball and weren't as nice looking.
The new ballpark was constructed at the site of the Albuquerque Sports Stadium. Only the playing surface remained the same. Due to the altitude, Isotopes Park is known for being a hitters ballpark. Isotopes Park is a pretty place full of amenities and seats that provide excellent views of the field and the Sandia Mountains beyond it as one of the best backdrops in Minor League Baseball.
Isotopes Park has a capacity of 13,279 with 11,154 fixed seats. Beyond the right field fence is the berm, a popular place for families to stretch out on a blanket and enjoy some baseball on a starry southwestern night, while nestled behind the bullpens in left is the Picnic Pavilion, which can accommodate up to 500 people in four tiered seating areas.
According to BaseballPilgrimages.com "a great first impression gets better inside, where the views of the ballpark's majestic surroundings are spectacular from its plentiful seating options. Four tiers of berm seating are on the hill in right field and the view from high up there, while somewhat distant, is a vivid one that's reminiscent of being in an IMAX theatre. Spanning within the foul poles, the ballpark's grandstands are impressive in size and function, as seats are generally angled towards home plate if they need be. That includes in the upper deck along the left field line, although that's a windy place to be when the area's notorious gusts pick up."
Here are some impressions of the ballpark (photos: Courtesy by Digital Ballparks)