Yes, you read it well. A final result of a baseball game was 2 1/2 to 2. According to a story, it happened in a baseball game in 1893. Here is the story of how.
During a game between the Allentown and Pottsville franchises of the Atlantic League, back then called the Pennsylvania State League, a player of Allentown, named Mike Kilroy, fouled off a pitch and broke the bat he was hitting with. This appeared to be the final bat so both teams ran out of them. Desperately, Kilroy looked for something to hit with and found an ax at a pile of wood. He took the ax and chopped the ball in half. One half dribbled into the infield and was fielded for an out. The other half went over the fence for a home run. After Kilroy trotted around the bases he argued that Allentown should be rewarded half a run. After deliberation and discussion between the coaches of both teams and the umpires, the officials awarded half a run to Allentown leading to a 2 1/2 – 2 victory of Allentown over Pottsville. At least, that is how the story goes.
Sure it was published in a newspaper as shown below but that was only after "Wild Bill" Setley, a teammate of Kilroy in Allentown, told the story in the radio show of "Ripley's Believe it or Not" in 1937.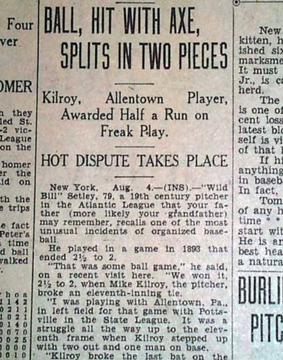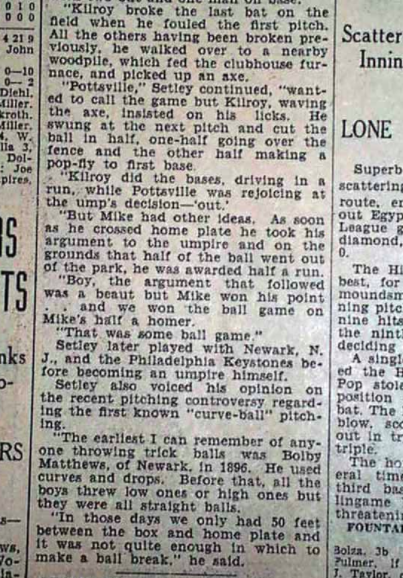 The problem with this story is that it is hard to check. Never has a team being awarded half a run. At least not in MLB and not since stats and scores were kept properly in Minor League Baseball. Sure in those days, baseball was still developing and a lot of rules as we know them today were not engraved in stone yet. So umpires had some room/freedom to make a decision themselves.
How plausible is it that all bats in the ballpark were broken? In those days, bats were made out of a tough hickory, a material that does not break easily. But still, they broke. So it may have been possible that in an extra-inning game, both teams went out of bats. Especially in those days, players did not have a wide array of bats for themselves.
As records show that Mike Kilroy and "Wild Bill" Setley did play in the Pennsylvania State League for Allentown we can confirm that part. But they were teammates in 1894 instead of 1893. It could be a case of disremembering from the side of Setley.
But… According to the great-granddaughter of Wild Bill Setley, her great grandfather was known to pull great pranks on and off the field. He also liked to tell some made-up stories.
Even though some confirmed pieces of information are true, Kilroy and Setley being teammates with Allentown in 1894 and an opposing team in Pottsville, there is a lot that has not been confirmed. And be honest, how likely is it that one part of a baseball that is cut in half, drops on the ground and the other half clears the fence for a home run?
Sure this is a funny and fantastic story but I think we have to take it with a grain of salt.