In this episode of "Ballparks Around the World, " we pay attention to the home of the Sydney Blue Sox: Blacktown Stadium.

Blacktown Stadium opened its doors in 1999. In fact Blacktown is a big sports facility with several baseball and softball diamonds, two cricket grounds and a football field. The sports facility is located at Rooty Hill, a suburb in the Western part of Sydney.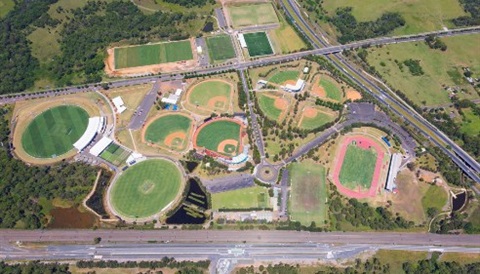 The baseball stadium was finished right in time for the 2000 Sydney Olympics, where the Netherlands stunned the baseball world by handing Cuba its first loss on an Olympic tournament.

The ballpark has a capacity of 3,000 of which 40% is seating area.

The Sydney Blue Sox only moved into the stadium in 2010 when it became member of the new Australian Baseball League.
The stadium contains one big grandstand that runs from first base towards third base. The dimensions of the playing surface are:

Left Field: 322 feet (98 meters)
Center Field: 402 feet (123 meters)
Right Field: 320 feet (97,5 meters)

Next to being the home of the Sydney Blue Sox, the stadium is home of New South Wales Baseball.

According to the website of the Sydney Blue Sox, there are strict rules for alcohol consumption in the stadium as is it not allowed to take several items into the stadium:
Any political, religious, or race-related materials
Clothing with offensive wording, pictures, or graphic design
Coolers, ice chests, or Eskies that cannot fit under seats (larger than 30cm x 30cm)
Glass or glass bottles
Explosives, fireworks, smoke bombs, flares
Animals (except for official guide dogs)
Dangerous weapons and knives
Musical instruments, horns, and whistles
Bikes, skateboards, and skates
Illegal substances
Any other item that Management considers to be dangerous or inappropriate or that inconveniences other spectators
Next to being home to the Sydney Blue Sox, Baseball NSW, the 2000 Olympics and several editions of the Claxton Shield finals, the ballpark hosted the Qualifiers of the 2017 World Baseball Classic in which Australia bested South Africa, New Zealand and the Philippines.

With the new ownership in place, some improvements may be added to the ballpark.

Here is a long list of features of the ballpark:
1200 capacity grandstand with approximately 500 seats undercover
Fully padded perimeter
Home & visitors dugouts
The main diamond has an electronic scoreboard, commentary/scorers box with full PA and sound system
Sand profile outfields with subsurface drainage systems
Four change rooms that can be configured to two larger rooms. All change rooms have toilets, showers and wash facilities
Umpires facilities with toilets, showers and change room
Kitchen facility
Function room with sound system, air conditioning & kitchen and toilet facilities
Three kiosks – 2 on grandstand concourse and 1 on ground level
First Aid Room
Reserved area for wheelchairs
Disability Lift
Here are some impressions of the ballpark: