Last night the WBSC (World Baseball and Softball Confederation) released a statement in which it announced that the Baseball World Cup for women will take place in Tijuana, Mexico. The tournament will start at November 12 and will last until November 21, 2020.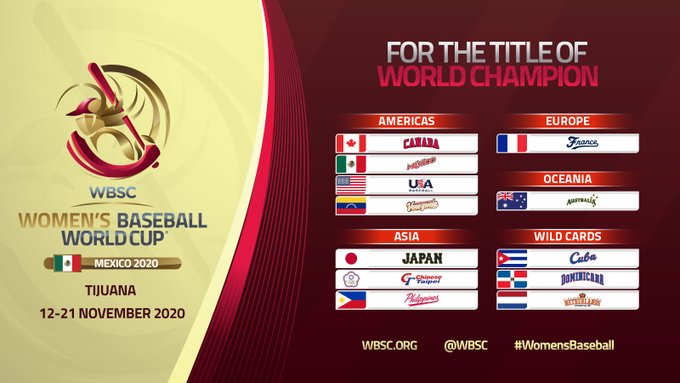 Except for Africa, each continent will be represented.
AMERICAS (4): Canada, Mexico, USA and Venezuela
ASIA (3): Defending World Cup Champion Japan, Chinese Taipei and Philippines,
EUROPE (1) France
OCEANIA (1): Australia
WILD CARD (3): Cuba, Dominican Republic and Netherlands
After the United States won the first two editions of the Women's Baseball World Cup (2004 and 2006), Japan won every edition ever since. In land of the Rising Sun, Women's baseball is a serious business as there is a true competition.
Compared to Japan, women's baseball in the Netherlands, which participated in the last five editions, isn't at such a high level. There are a few ladies teams here and there but mostly, they participate in the lower levels of Dutch baseball. Most of the time, the ladies are part of a men's team.
This year, Europe is represented by two teams. Since France won last year's inaugural Women's Baseball European Cup, they are the first team to represent Europe. The Netherlands that finished second in the standings of the European Cup as they did not stand a chance vs the French ladies. Nevertheless, the Dutch ladies will participate in the upcoming World Cup as they have gotten a Wild Card next to Cuba and the Dominican Republic.
As Mexico is the organizing country, they have the right to participate as well. Next to the Philippines and France, the Mexicans will debut on the world stage.
After all cancellations in the past months, the continuation of the Women's Baseball World Cup is a godsend. But the WBSC's choice for Mexico is questionable as the country is still suffering from the coronavirus and the situation is still not under control with the number of contaminations well over 97,000 and the death toll exceeding 10,000. But since May 28, there is a downward trend regarding the new cases per day (still more than 2,000).
But there are still five and a half months to go so hopefully that is enough time to settle things. It is not clear if there is an alternate location in case Mexico will not be able to get this outbreak in check.