Today, 42 years ago, the Philadelphia Phillies got rid of their two mascots Philadelphia Phil and Philadelphia Phillis and introduced their new mascot which entertains the fans until today.
In a game vs the Cubs at Veterans Stadium, the large, furry, green bipedal flightless bird made its first appearance in public. According to its official biography, the bird with an extendable tongue is a native of the Galápagos Islands and the team's biggest fan.
The Phanatic performs various routines to entertain fans during baseball games and makes public relations and goodwill appearances for the Phillies. The Phanatic is widely acknowledged as one of the best ballpark mascots, and one of the most recognizable mascots in North American sports. Next to the Pirates Parrot, he is one of the funniest for sure.
Originally, the Phanatic suit was worn by David Raymond, who worked as an intern in the team's front office at the time from 1978 to 1993. Since 1993, Tom Burgoyne has portrayed the Phanatic, although, in public, Burgoyne states that he is only the Phanatic's "best friend."
The Philly Phanatic was created as Dennis Lehman, who, together with the Philadelphia Phillies Promotions Director, Frank Sullivan, thought the team needed a mascot similar to the Padres' San Diego Chicken. The Phanatic was created by Harrison/Erickson of New York City (now known as Acme Mascots), which had ties with Jim Henson's Muppets. Instead of a number on the back of his jersey, he wears a star. The character was named for the fanatical fans of the team.
The character is known for bugging the opponents by dancing provocatively in front of their dugout. He also shoots hot dogs into the stands with a hot dog gun. And of course, he mocks umpires. he also gets into the stands to entertain the fans. His favorite activity is to rub bald heads. But perhaps his most famous act was when he dragged a puppet in a Dodger uniform around, making Tommy LaSorda chase him.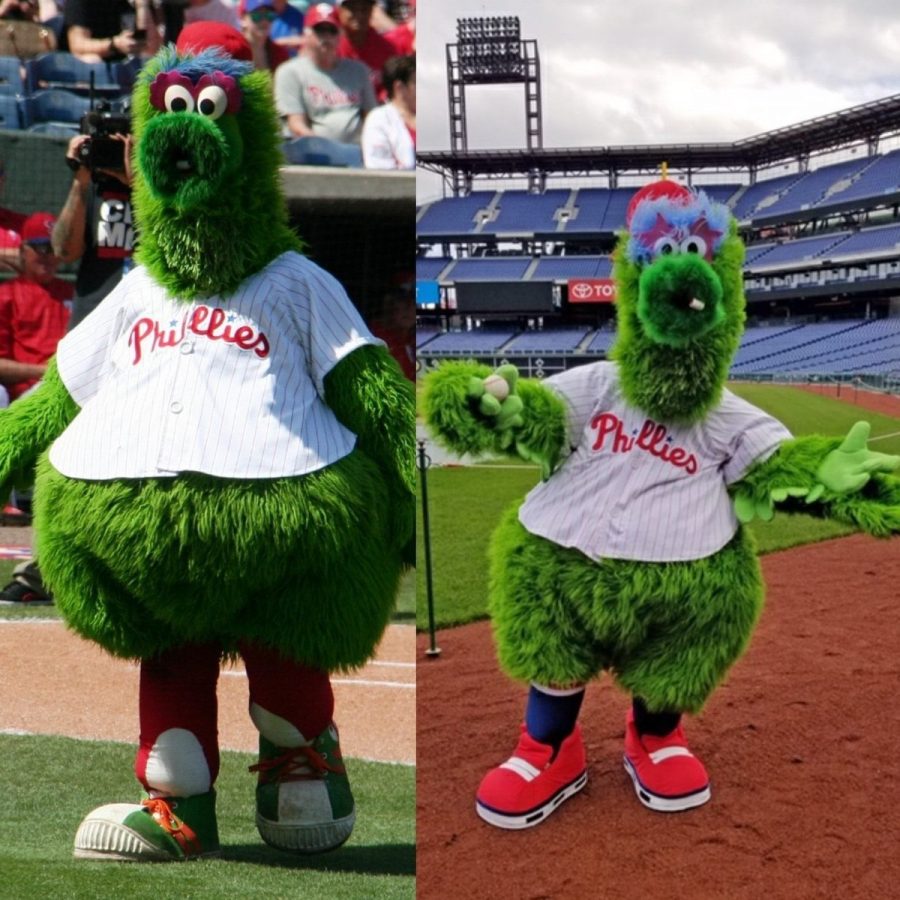 At the time the mascot was introduced, the Phillies organization didn't purchase the rights to this mascot for $5,000 which was a costly decision. In 1984 the Phillies ended up having to purchase the rights to the Philly Phanatic for $250,000. In the contract allowed the creators to renegotiate after 35 years. Earlier this year, the Phillies altered the Phanatic's look with adjustments to the shoes, tail, eyes, arms, and a few other minor details. These changes show that the Phillies have designed the Phanatic enough so that it strays away from Erickson/Harrison's original draft.
The Phanatic inspired the Pittsburgh Pirates to create their Pirates Parrot mascot in 1979.