In the past few years, you could read several posts about my aversion to minor league clubs adopting the identity of the parent club. Good examples are the Dodgers' and Braves' farm teams. But sometimes adoptions like that are inevitable. 
On April 17, 18, and 19 the Daytona Tortugas will be Dodgerized for the occasion and this while the club isn't even a part of the Dodgers farm system. On the contrary, the Tortugas are the A-Advanced farm team of the Cincinnati Reds.
So why this move to a Dodgers look? Well, on April 17, 18, and 19 the Tortugas honor Jackie Robinson, two days after MLB does. As a result, the club will wear Brooklyn Dodgers style jerseys saying Tortugas. The club will sport the regular Tortugas logo on the left sleeve of the jersey.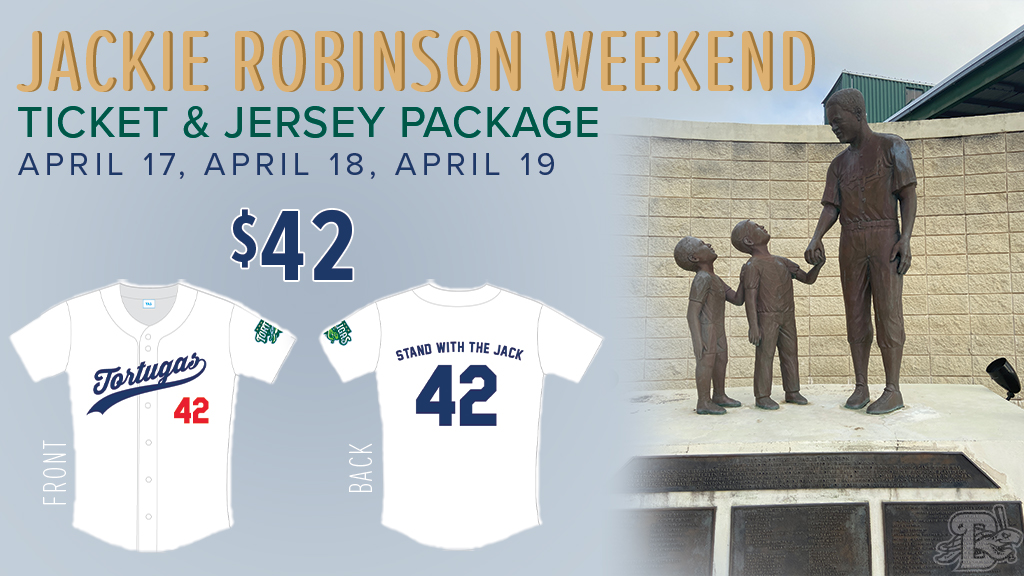 At the back of the jersey, you can read "Stand with the Jack" referring to Jackie Robinson Ballpark, the home of the Tortugas. This piece of text is a stinging rebuke towards MLB's plans to extract Daytona as a minor league team.
Jackie Robinson Ballpark opened in 1940. After being signed by the Brooklyn Dodgers, Robinson arrived in Daytona at the Dodgers' spring training camp. Daytona was home to the Dodgers' Class D farm team. So it was in Daytona that Robinson made his first steps in affiliated professional baseball.
Besides spending time during spring training, Robinson never played at Daytona as Branch Rickey sent him to the AAA Montreal Royals, where he spent the 1946 season before he was called up to the Brooklyn Dodgers before the start of the 1947 season.
Since Robinson experienced the expected racism and abuse in Florida, the Dodgers moved their spring training camp to Havana, Cuba.
This year, the Tortugas will wear no. 42. In previous years they wore Robinson's no. 9, the number he wore with the Montreal Royals. The jersey can be obtained by the fans as part of a special three-day package that gives access to all three days.