Meerlease Pioniers has to do without their British pitcher Paul Kirkpatrick next season as he has opted to play for Fortitudo Bologna next season. Kirkpatrick was mainly used as a reliever but still made four starts for the team from Hoofddorp.
Like the past two seasons, Fortitudo Bologna is roaming European baseball, looking for European players as they are not considered foreigners.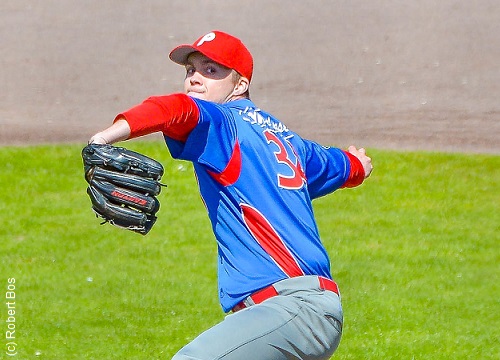 Kirkpatrick was one of the best pitchers in the Dutch hoofdklasse last year. Of the twenty-one appearances, Paul made four starts. He posted a 3-4 record with a 1.98 ERA. He kept his opponents limited to a batting average of just .189.
Previous to his stint with Hoofddorp, Kirkpatrick pitched for the Stuttgart Reds in the German Bundesliga. He pitched in five games (all starts, two complete) and was 2-3 with a 3.74 ERA, striking out thirty-six batters in 33 2/3 inning, giving up twenty-eight base hits and walking sixteen. So his numbers in a stronger league were better than those in Germany.
In the past two seasons, Bologna acquired Gilmer Lampe (2018) from L&D Amsterdam Pirates and Jarreau Martina (Oosterhout Twins). The latter was released at the half of the season as he was replaced by French international Andy Paz.