Don Newcombe, the legendary pitcher of the Brooklyn Dodgers, who recently passed away, had a "secret" I did not know about. In the final year of his baseball career, Newcomb played in Japan. Not as a pitcher but as a position player.
In 1962, the year the New York Yankees won their last World Series title for more than a decade to come, the year that three prisoners escaped from Alcatraz, the year of the Cuban missile crisis, former Dodger great Don Newcombe signed a deal with the Chunichi Dragons.
The legendary Newcombe debuted with the Brooklyn Dodgers in 1949, a time in which Afro-Americans were still rarely seen on the MLB diamonds. After a solid rookie (1949) season in which he posted a 17-8 record (.680%) and a 3.17 ERA, he immediately earned a spot in the All-Star game. No surprise he also was named Rookie of the Year.
After his first three (All-Star) seasons, Newk did not play as he joined military service in 1952 and 1953. The first season after his return wasn't a great one. Still, he had a winning record (9-8) but his ERA was on the high side with 4.55 and so was the batting average of the hitters he faced (.275). But nevertheless, his best years were about to come.
In the next two seasons, he would have 20 win seasons as he posted 20-5 (1955) and 27-7 (1956) records which earned him the MLB Cy Young award in 1956 (as the award was given to only one pitcher instead of one in both the AL and NL). But from there, his career went downhill as the side effects of alcohol abuse set in. In 1957 he went 11-12 and in 1958 7-13. After a 0-6 start of the season in 1959, the Dodgers' second year in Los Angeles, he was traded to the Cincinnati Reds. Newk spent two and a half years with the Reds in which he posted a 24-21 record. After his contract was sold to the Cleveland Indians, Newcombe pitched in twenty more games but ended with a disappointing 2-3 record.
But besides pitching, Newcombe was known for something different. He was an excellent hitter. He was (one of) the best hitting pitcher(s) in the Bigs. In 1958, he even hit a magnificent .417. After the Cleveland Indians cut him loose after the 1960 season, he ended his MLB career with a .271 lifetime batting average with fifteen home runs and thirty-three doubles.
Newk spent the 1961 season in the Pacific Coast League, with the Spokane Indians (the continuation of the Los Angeles Angels, who were bought by Walter O'Malley to acquire the baseball rights in Los Angeles and moved to Spokane to make room for the Dodgers).
But even at AAA level, Newcombe could not leave a good impression anymore as he won nine games and lost eight and had a 4.96 ERA.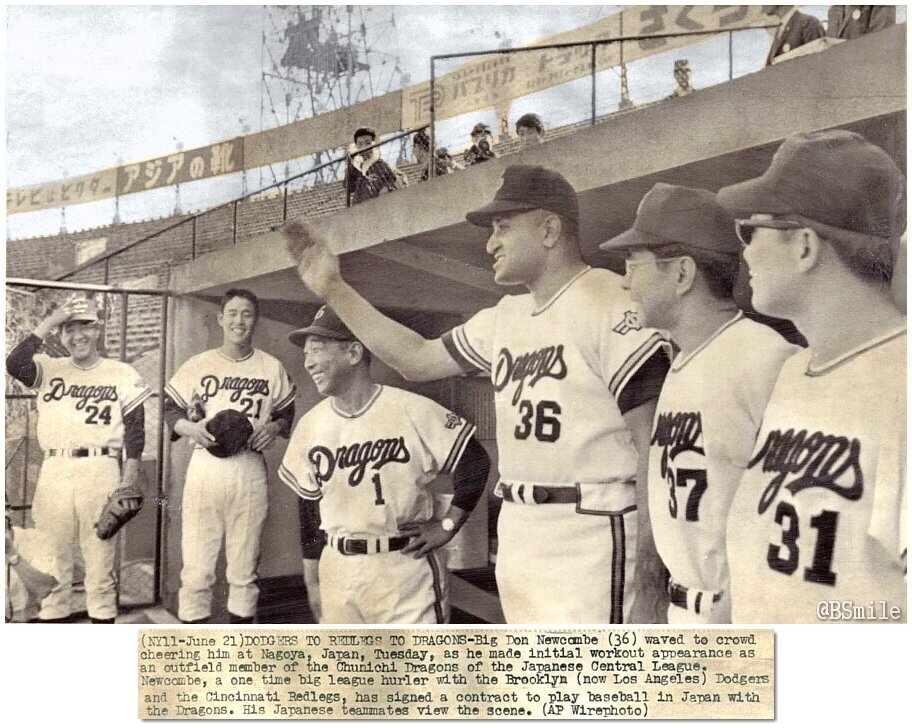 So at the age of 36, Newcombe signed a deal with the Chunichi Dragons in the NPB's Central League. He wasn't signed as a pitcher though. No, he was signed to play first base or outfield. He was signed for his bat. And hitting is what he did. He finished his final professional season with a .262/.316/.473 slash line. He hit twelve home runs and twenty-three doubles. It is hard to tell how he fared as a fielder since his fielding stats from Japan are nowhere to be found. Newk beat Larry Doby by a week as becoming the first MLB player to play in the Japanese competition. Newcombe made his debut on June 23rd while Doby made his on June 30th. But it wasn't the first time, Newcombe spent time in Japan. In 1956, the Brooklyn Dodgers toured in Japan and he was part of that team.
Newcombe and his Afro-American teammates helped the human rights movement as the following passage shows:
In 1968, Newcombe met with Martin Luther King Jr. just 28 days before the civil rights leader's assassination. King had dinner at Newcombe's home in Los Angeles before returning to Atlanta. According to Newcombe, King told him, "Don, you'll never know how easy you and Jackie and Doby and Campy made it for me to do my job by what you did on the baseball field."
After his return from Japan, several things happened that helped Newcombe decide to stop drinking. This decision changed his life forever. Who knows what could have become of him when he never was bothered by the alcohol abuse.
With a .271 lifetime batting average, Newcombe still holds the best batting average for pitchers in the Majors. A record that likely never will be broken again.