99 years ago, Major League Baseball officially banned the spitball. Only 17 pitchers that depended on the pitch for their livelihood were allowed to use it for the remainder of their career until they retired.
The seventeen pitchers that were allowed to use the spitter were Red Faber, Burleigh Grimes, Jack Quinn, Urban Shocker, Stan Coveleskie, Bill Doak, Ray Caldwell, Clarence Mitchell, Dutch Leonard, Ray Fisher, Dick Rudolph, Allen Sothoron, Phil Douglas, Allan Russell, Doc Ayers, Dana Fillingim and Marvin Goodwin.
The reason why the spitball was banned was that it was regarded as doctoring a baseball. And everything that was considered doctoring a baseball was banned on this day in 1920.
Throwing the spitball before that 10th of February 1920 was a common thing. Many pitchers did it. Pitchers like Jack Chesbro and Ed Walsh. The reason why it was banned came from the owners. They wanted to increase the offense and especially the home run, something fans were fond of (more home runs, more fans).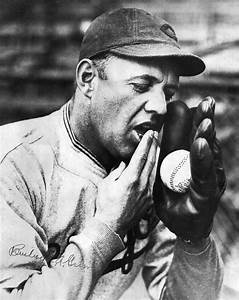 The last pitcher that used the spitter legally was Burleigh Grimes, who heavily relied on the pitch.
The Hall of Famer pitched 19 seasons for various teams, helping the Cardinals winning the World Series in 1931. With the Pittsburgh Pirates in 1928, Grimes led the National League in wins, starts, innings pitched, complete games, and shutouts.
The spitball evolved in the late 19th century as pitchers discovered that spit (or any number of other wet foreign substances) could alter a baseball's trajectory toward the plate. A good pitcher could get an extra break on his pitches, and the baseball would get progressively dirtier and harder to see as the game went on. The spitball became more popular as pitchers dominated in the early 20th century. Ed Walsh, one of the premier spitballers of the era, still holds the major league record with a career 1.82 ERA.
Despite the ban of the spitball, the ball was used in the decades that followed 1920 nevertheless. Another Hall of Famer, Gaylord Perry was known for his use of the spitball. Only in his 21st MLB season, Perry was ejected for using the spitball. Perry even named his autobiography "Me and the spitter".
During my playing days, I used the spitball almost every time, not knowing it was illegal. But at the level I played at, the umpires didn't even bother to look.