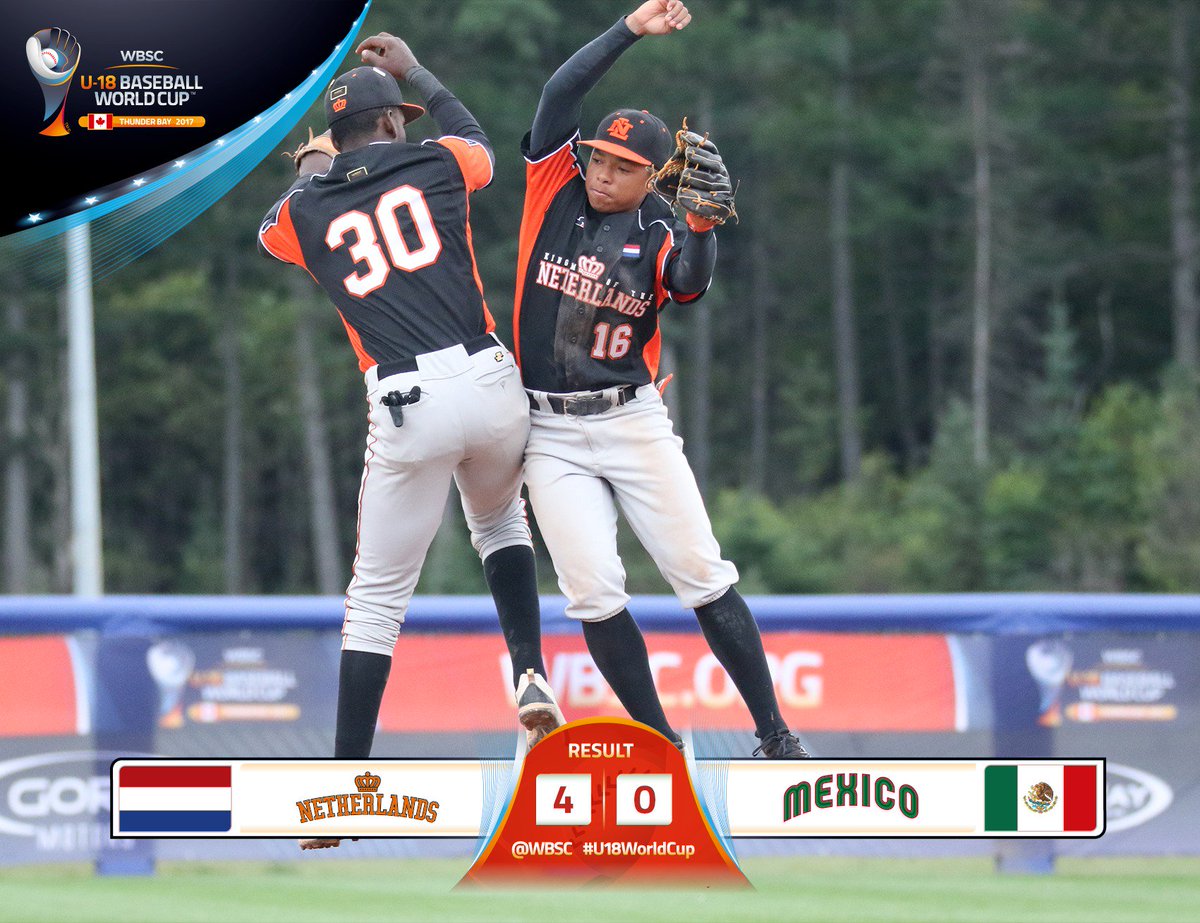 After a close loss vs Japan, yesterday, the Kingdom of the Netherlands shoved Mexico aside today. Four one-run innings proved to be enough against the Mexicans.

The 4-0 victory could have been a lot bigger if the Dutch would have cashed in in the second inning. The team loaded the bases with one out, but back-to-back strikeouts prevented the Dutch from opening the score. That happened one inning later. Two two outs back-to-back singles by Richgelon Juliana and Shèrten Apostel drove in one run.
A fielding error by the Mexican shortstop on a "hit" by Makesiondon Kelkboom, allowed Denzel Bryson, who had gotten on base due to an HBP, to score the second run in the fifth inning.
In the meantime, Dutch starting pitcher Christopher Koeiman kept the Mexican lineup in check. Koeiman pitched a complete game shutout in which he gave up five hits, two walks and struck out seven for the win. Mexico never got past second base in this game.
In the top of the eighth inning, Dylan Koster hit a leadoff single, stole second and advanced to third on a wild pitch. Denzel Bryson the grounded to third where the third baseman committed a fielding error that allowed Dylan Koster to score the Dutch third run. In the ninth inning, the Kingdom of the Netherlands scored once more when Richgelon Juliana doubled to left-center field. With two outs and Juliana still at second base, Dylan Koster singled Juliana home for the fourth run to reach the final score of 4-0.
Even though it wasn't a blowout score, Mexico never came close to the victory. Koeiman was simply too dominating to give Mexico a chance.
Thanks to this victory, the Dutch will start on top of the standings in the consolation group with Canada, Nicaragua, and Italy as opponents.
Richgelon Juliana and Dylan Koster were the best hitters for the Dutch. Both went 3 for 5. Juliana collected two hits and scored twice, while Dylan Koster drove in one run and scored once.
Other hitting results:
Makesliondon Kelkboom: 1 for 5
Shèrten Apostel: 2 for 4, 1 double, 1 RBI
Delano Selassa: 1 for 5
Tijmen Takke: 1 for 5