The A Advanced Carolina League announced yesterday that Curaçao native Ademar Rifaela has been named MVP of 2017. But it wasn't the only way Rifaela was laureled. He was also added to the Carolina League Postseason All-Star Team, together with another player from the Dutch Caribbean (the island of Aruba in this case), Sicnarf Loopstok.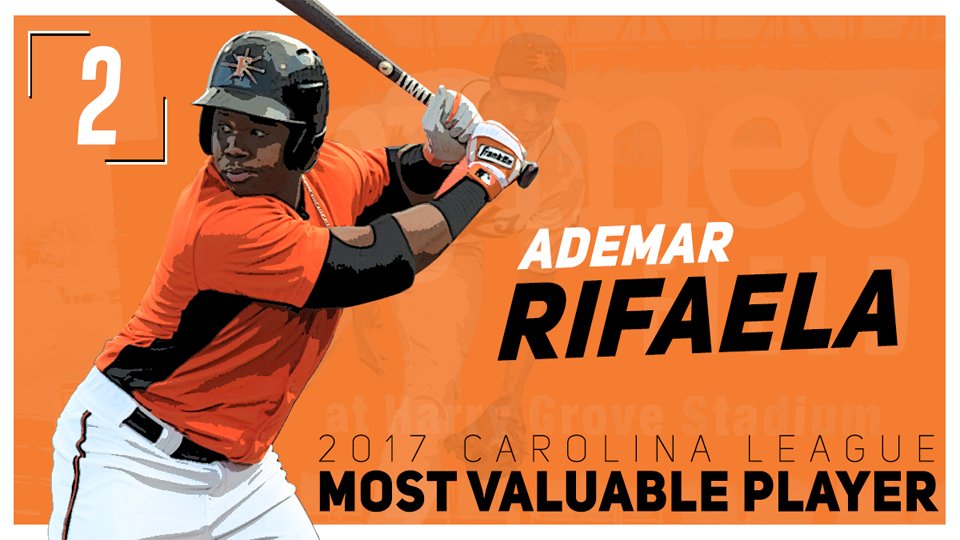 In his sixth professional season, Rifaela seems to have his breakout year. In five previous, seasons he never posted a higher batting average than .262, but this year in his second stint with the Frederick Keys, his first full season with the club, he raised his average to .283.
The 22-year old Curaçaoan leads his club in several offensive categories. First of all, he has hit the most home runs in the Carolina League (24). He was first in base hits (122), runs batted in (78) and runs scored (70).
Despite his solid season, Rifaela didn't make it to the All-Star Game of the Carolina League. His career is a slow but steady one. He started in professional baseball in 2013 when he played for the DSL Orioles. One year later he was promoted to the Gulf Coast League and in 2015 he spent the season at A Short Season with the Aberdeen IronBirds and A Full Season Delmarva Shorebirds.  After he spent most of the 2016 season at Delmarva, he was sent to Frederick near the end of it.
With four games left to play in the Carolina League season, the Keys are out of contention. The Lynchburg Hillcats have clinched the first half and the second half of the season so the team with the second best overall record will advance to the playoffs. The Keys have a 65-70 record and trail the team with the second best record, the Salem Red Sox, by seven games in the overall standings.
So with Sicnarf Loopstok, there is at least one player of the Dutch Kingdom, who will advance to the Carolina League playoffs. With an 83-52 record, the Hillcats are the best team of the Carolina League by far.