In a close game between L&D Amsterdam Pirates and Curaçao Neptunus, the Amsterdam based team barely stayed at the right side of the score. In the ninth inning, Neptunus came within one run of Pirates but their rally fell short, so Pirates took the 5-4 win home.
Both teams did not score in the first three innings, but then the offense of both teams took off. With one out in the third inning, Danny Rombley singled to right field, followed by a single up the middle by Linoy Croes on which Rombley advanced to third. On a 4-3
ground out hit by Patrick Bok, Danny Rombley scored the opening run. After Croes advanced to third on a passed ball, back-to-back doubles by Rachid Gerard and Jesse Aussems, two more runs scored.
Robin Schel, who worked his way through the first three innings, got into trouble in the fourth. With two outs and Benjamin Dille on first base, Schel couldn't get out of the inning as he gave up double down the left field line to Gianison Boekhoudt. A fielding error and a throwing error by left fielder Gilmer Lampe, allowed Benjamin Dille to score and Gianison Boekhoudt to advance to third. Boekhoudt was driven in on a single by Greg Muller, who was driven in on his turn on a single down the left field line by Jochem Koedijk.
In the fifth inning, a double by Nick Urbanus drove in Zerzinho Cores and a sac fly by Danny Rombley drove in Nick Urbanus for Pirates. That fifth run, scored by Nick Urbanus appeared to be the insurance run for them.
In the seventh inning, Robin Schel was done. He gave up a single to Jochem Koedijk and that was the sign for manager Charles Urbanus to replace him with Daan Hendrix. Hendrikx got out of the inning without any damage but later in the ninth inning, he gave up the fourth run to Neptunus when Stijn van der Meer doubled down the right field line on which Daniel Fernandes scored. Hendrix was replaced by Dennis Burgersdijk who recorded the final out of the game.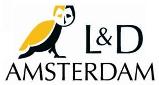 Winning pitcher was Robin Schel, who gave up three runs on seven hits and two walks and struck out three in six innings. Kevin Kelly, who lasted 5.2 innings, took the loss. He gave up five runs on ten hits, walked three and struck out two.
Dennis Burgersdijk earned the save after facing one batter in the ninth inning.
Best hitter for L&D Amsterdam Pirates was Danny Rombley who went 2 for 3 with a double, a RBI and a run scored.
Here are a few impressions of the game:


This report is brought to you by Score66 Baseball