Who would have thought that Korea would be dead last in group A after two games, going 0-2? The Kingdom of the Netherlands dealt the host of group A the second loss of the tournament in as many days, with exactly the same score as four years ago (5-0).
The game between Korea and the Kingdom of the Netherlands was advertised as a battle of the giants but Korea never could claim that title in this game either.
Manager Hensley Meulens sent his ace to the mound. Rick van den Hurk kept the Koreans from scoring but he needed some help of his infield for that. Andrelton Simmons snared a sharp grounder to get the first out of the game and started a double play with Jonathan
Schoop to help Van den Hurk to get out of a jam.
The Dutch bats did well in their first game. Jurickson Profar, playing center field, launched a two run homer after Andrelton Simmons hit a leadoff single in the first inning, to give the Dutch an early lead.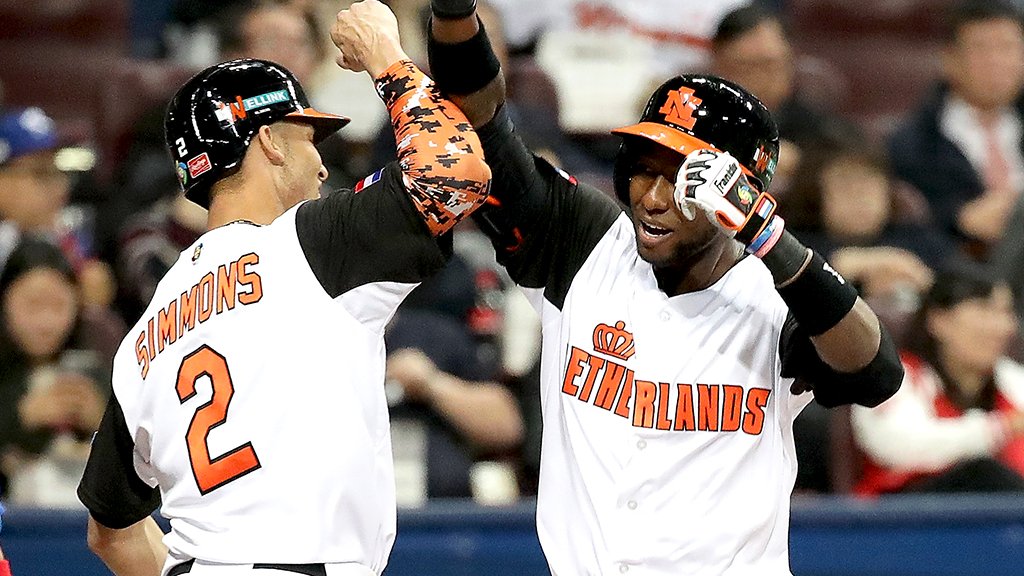 In the second inning, Andrelton Simmons doubled home Randolph Oduber, who scored all the way from first base to make it 3-0.
In the mean time, Rick van den Hurk limited Korea to three hits and two walks in four full innings. Rick needed 62 pitches for that, which means that he is on a four day rest now. Hensley Meulens came with a surprising move when he replaced Van den Hurk with Diegomar Markwell. Many expected Markwell to be the game two starter, but Meulens clearly has other plans. Markwell lasted two frames and allowed one hit and two walks which means that he will be on one day rest after throwing 41 pitches. Shairon Martis (still the only pitcher with a no-hitter in the WBC history) and Tom Stuifbergen lasted an inning and are able to pitch tomorrow if needed. Both kept Korea scoreless.
In the sixth inning, the Kingdom of the Netherlands added two more runs to their score when, with two outs, Randolph Oduber hit a towering homerun to left center field and took Dashenko Ricardo with him.
Eventually, Loek van Mil shut the door for the Koreans as he limited them to one hit and struck out one in the final inning.
Rick van den Hurk earned the win after pitching four innings. The Dutch outhit Korea 11-6 and collected four extra basehits: a double by Andrelton Simmons, a triple by Xander Bogaerts and homeruns by Jurickson Profar and Randolph Oduber.
With this result, Korea is almost eliminated. The team still has a slim chance to advance but they are depending on the results of other games. Today was a must win situation for them and they did not do what they had to do. The Dutch will face another team in a must-win situation tomorrow in Chinese Taipei. The Taiwanese lost to Israel 15-7 and need a win to keep a chance of surviving round one.
With Diegomar Markwell used in relief today, the question is who will start tomorrow's
game for the Dutch. Likely Jair Jurrjens, who pitched rather well during training camp in Arizona.
This report was brought to you by Score66 Baseball