In this episode of Ballparks Around the World, we pay attention to the oldest baseball grounds in the world: Labatt Memorial Park in London, Ontario in Canada.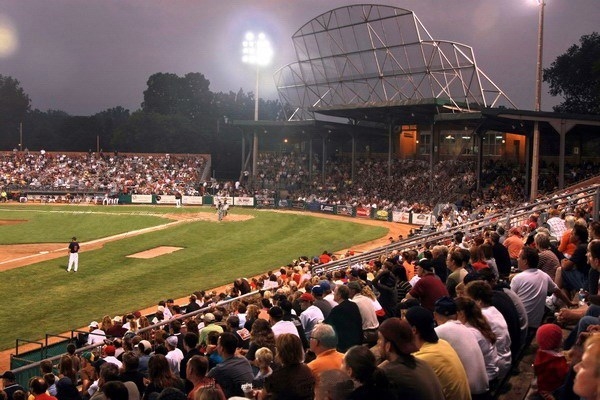 The ballpark opened its doors in 1877 as Tecumseh Park. That name would be used until 1936. Tecumseh Park was named after the Shawnee Chief Tecumseh who fought alongside the British during the War of 1812 and who died in the Battle of the Thames near Chatham, Ontario, in October 1813.

The creation of the London Tecumsehs ballclub in 1868, led to the creation of the ballpark. The location of the ballpark is near the forks of the Thames River in central London, Ontario,The first game that was played there was between the Tecumsehs and its junior team the London Atlantics, on May 3rd, 1877.

In 1936, the city of London became the owner of the ballpark. Through the years, the ballpark has seen several rebuildings. The first one was in 1883, after the Thames River flooded and destroyed he grandstands that were located near today's outfield foul lines. The home plate was situated in today's left-center field. The new grandstand and home plate moved to approximately the same location as they are situated now.

Starting in 1892, the ballpark was also used for bicycle races. In 1895, the ballpark was used as site for the first ever motion picture display in London.

One year after the city became the owner, the Thames River flooded once again and destroyed the ballpark once again. As a result, a third construction of the grandstand and a new clubhouse was necessary. Local beer brewer Labatt donated 10,000 Canadian Dollars to renovate the ballpark. Part of the deed was that the ballpark would be renamed "The John Labatt Memorial Athletic Park."

In 2001, the grandstand that was constructed in 1937, was demolished to create a wheelchair accessible one. Next to baseball and cycling, the ballpark has been used for a broad variety of sports like soccer, softball, football, track and field, wrestling, boxing, skating and for the Royal Canadian Mounted Police Musical Ride.
On May 30, 1994, the park was designated by London City Council under Part IV of the Ontario Heritage Act as an historic site, when an historical plaque was unveiled at the front gates of the park on July 1 (Canada Day), 1994.

According to the Guinness Book of Records, Labatt Memorial Park is the oldest continually used ballpark in the world. Even though the current grandstand dates from 2001, it still has an old time feel with the obstructed view due to several supporting beams.

Today's dimensions of the ballpark are:

Left field: 330 feet
Center field: 402 feet
Right field: 330 feet
Capacity: 5,200

Here are some images of the current ballpark. Photos: courtesy of Digitalballparks.com.