With a lot of fanfare, the Sydney Blue Sox announced the acquisition of former MLB star Manny Ramirez some time ago. But shortly before the ABL season started, the outfielder got injured and wasn't able to play.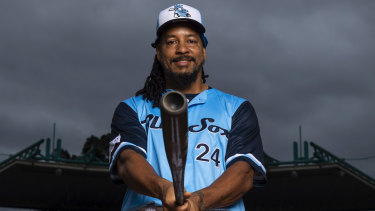 Besides his injury, Manny was sidelined due to an undisclosed medical issue. Up till today, he hasn't played a game for the Blue Sox; the Blue Sox haven't played that many games yet either due to corona.

In a statement on their website, the Blue Sox announced they have released the 48-year old slugger "because of the uncertainty of the season and the ongoing medical issue that is preventing Manny Ramirez from playing and training with the Sydney Blue Sox."

The club stated further: "This is extremely disappointing for the Sydney Blue Sox, but we owe it to our fans and the other teams to make a decision now.
The level of investment to get him here meant this was never a PR stunt. It was never was our intention to have him NOT participate in the ABL this season.
We are unable to comment further and wish to respect all of our current players and staff by continuing preparations for the remainder of the ABL season. We are doing everything we can to get restarted."

Apparently, it was harder for Ramirez, who hasn't played baseball in four years, to get his body back into shape so he could compete on a decent level. According insiders, the impact that Ramirez had on the player group was tremendous.

It is a sad development for the fans, who wanted to see Manny play but from the point of view of the club, the move is quite understandable.

The decision may have a negative impact on the subscriptions to Sports Flick, a paid sports channel with whom the Blue Sox had an agreement to air their games at. One can imagine that a lot of fans may quit the subscription and those who were mulling on subscribing may now refrain.