In today's episode of "Baseball Related Songs," we pay attention to "Vida Blue" performed by Albert Jones. Vida Blue, of course, was a pitcher that spent most of his career with the Oakland Athletics and the San Francisco Giants.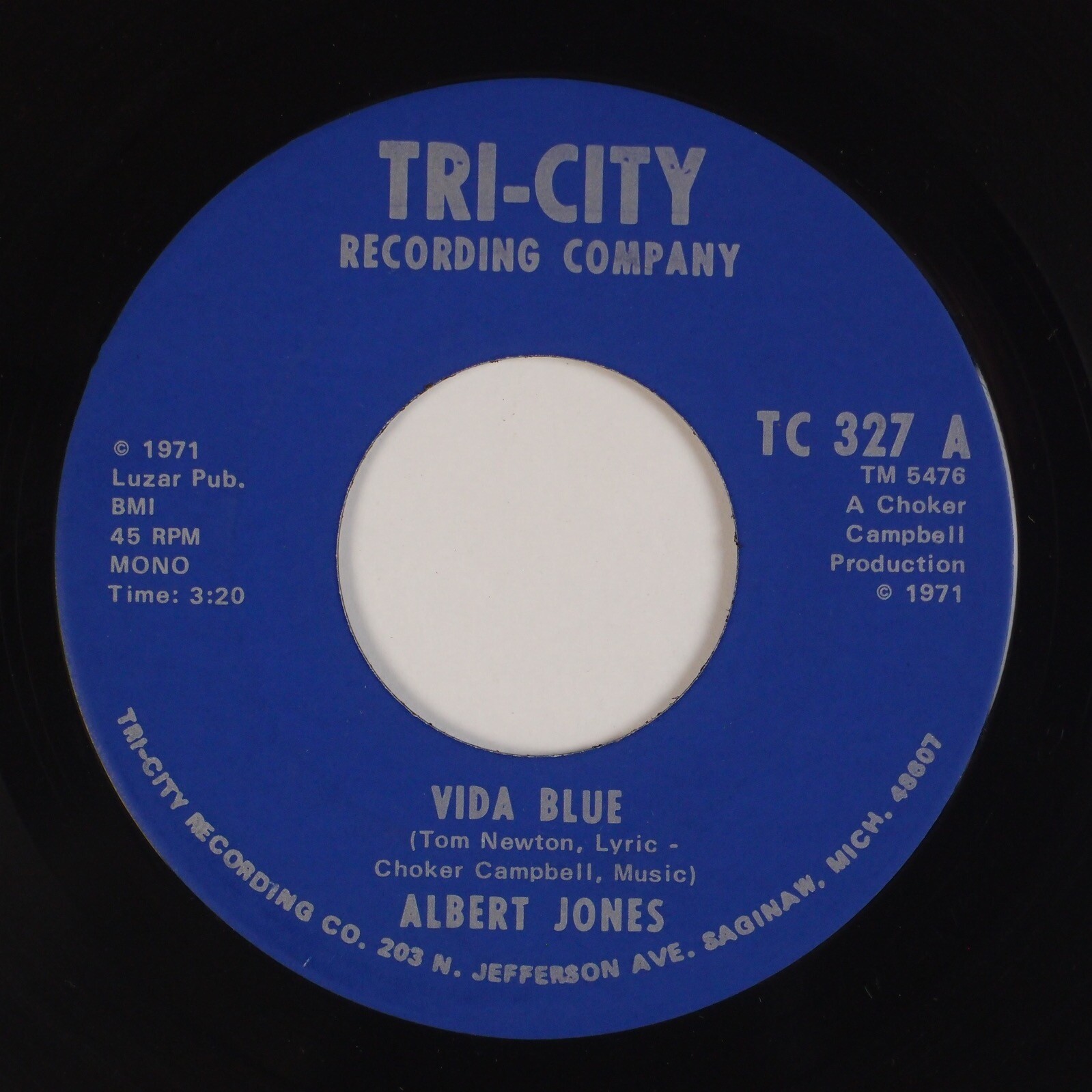 Albert Jones, a Detroit Soul singer, was inspired by the great performance of Vida Blue in 1971 when the hurler set a 24-8 record with a 1.82 ERA that earned him the Cy Young and MVP Award in that year. The result was like James Brown had discovered baseball. A song about a pitcher with a fat soul sound.
Albert Jones recorded for a number of labels including Tri-City, Bump Shop, Kapp, and Candy Apple from the late 60s to the mid-70s. Much of his work was under the auspices of Walter 'Choker' Campbell, a saxophonist/bandleader who recorded a number of records under his own name before going to work running the Motown road band.
Jones recorded four singles for Tri-City. Vida Blue was the last one of them.
The strange thing is that the B-side of this 45 RPM single is a country version of the same song by a singer named Tom Newton. Since the single was released to capitalize on the popularity of the pitcher, it seems likely that the genre switch on the B-side was created to double the chances that the record might be a hit, according to Funky16corners.com.
Vida Blue, born in 1949, broke into the Majors on July 20, eight days before his twentieth birthday. Blue, a power pitcher, threw a blazing fastball that could hit 100 mph. Rather unusual as almost no lefty was capable of doing so. To keep batters off-balanced, Blue occasionally threw a
hook and an above-average changeup. All-time hits leader Pete Rose stated that Blue "threw as hard as anyone" he had ever faced.
On September 21, 1970 he threw a no-hitter and on September 28, 1975, Blue threw a combined no-hitter. Despite being added to the A's Hall of Fame and the Giants' Wall of Fame and the Bay Area Hall of Fame and despite putting some nice numbers and a lifetime 3.27 ERA, Blue never made it to the Hall of Fame in Cooperstown, NY.
As there are no lyrics available on the internet, I had to listen to the record very closely. As the song is full of slang, I may have missed something here and there.
The Lyrics of Vida Blue are as follows:
Ooh, Vida Blue
I said, Woooh, Vida Blue
If you're looking for a hero exciting and new
There's a boy in Oakland named of Vida Blue
He throws a fastball like it was shot from a gun
Everybody's talking that he's number one
That's Vida Blue
He's gutless, throws BBs too
Vida's still a youngster, yes, he's just a boy
But let me tell you, he's the real McCoy
He turns it loose inside the pen
All on hitter blinks that ball has gone on by
That's Vida Blue, Whooo that cold catcher
he needs a bigger mitt, ha, ha, ha, ha, ha, ha
Now all the kids and the families too
are rootin' hard for Vida Blue
They've heard of Feller and Koufax and all the rest
But this kid from Oakland could be the best
That's Vida Blue. Vida who?  Vida Blue! That's who. 
He's dynamite
Out on the field, day and night
Vida shows the world he's outta sight
Killebrew, Yastrzemski and Gates Brown too
They can't buy a hit off Vida Blue
He's a lefty, he hums that hill
Those poor hitters, they got the Vida Blues. 
Now Charlie Finley owns a big white mule
But believing me, he ain't no fool. 
Out at the park, you can see him grin
When Vida's pitchin' the A's are gonna win
That's Vida Blue, he wanna love him
So what's new? They oughta name a hill after Vida
call it Vida hill
Baseball is still our national game
But the last few years things were kinda tame
Now they're buzzin' from town to town
'cause ain't no hitter livin' put Vida down
Get his autograph girls, he won't bite ya
He's a gentleman
That's Vida Blue
Daddy ain't Vida Blue ever gonna lose again? 
Watch your mouth boy, that's Vida Blue
Ain't nothing he can't do
He's the greatest, that Vida Blue
Rudi, Jackson, and Monday hit the long ball
At the pennant play, nothing stands tall
That's Vida Blue
That's Vida Blue
Epstein, Bauer, Bando, and Green
Are the best combination the world has seen
That's Vida Blue
Hah! That's Vida Blue
Even the A's pitchers throw and with final pitches
what can go wrong?
That's Vida Blue
That's Vida Blue
Vida Blue
Hah! Oakland is pennant bound this year
Charlie and his mule are grinning