The title of this blog post may tell you it is about St. Patrick's Day. Next, to being the very first professional baseball team, the Cincinnati Reds had another first in the history of baseball.
In 1978 during a St. Patrick's Day practice game, the team donned Green jerseys instead of their traditional red ones. On that day,  when the Reds were preparing for a spring training game against the New York Yankees and found special uniforms waiting in their lockers. Everything that was normally red, the chest logo, the lettering and numbering, the stripes on the sleeves and waistband, the caps, the stirrups, the undershirts, had been rendered in green.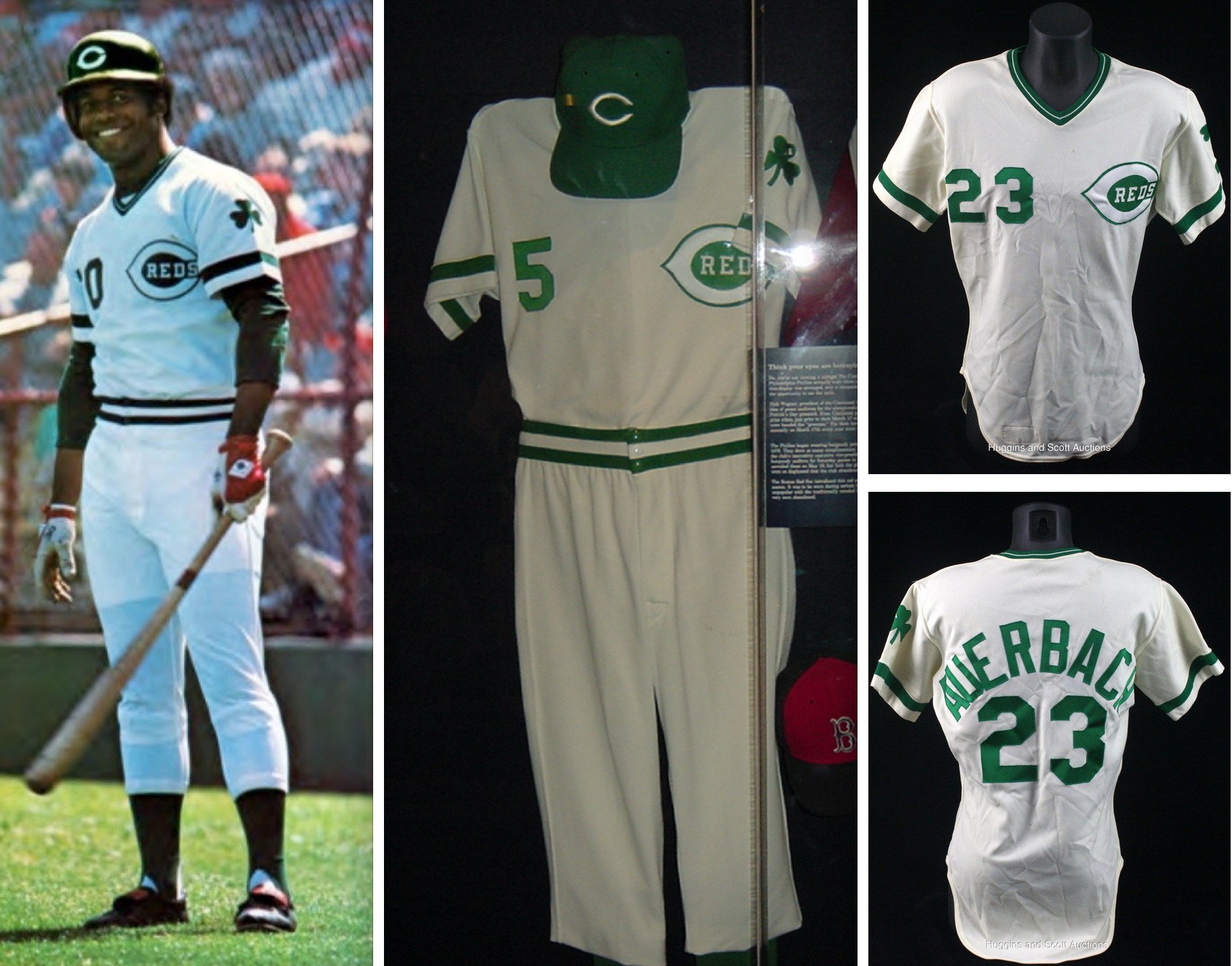 Since the Reds were a very controversial organization that insisted players would not have facial hair and wore black cleats without white striping, this move pretty much came as a surprise.
Special occasion uniforms were not a common thing back in the 1970s, so the Reds' players didn't know what to think. Catcher Johnny Bench reportedly said, "Did we get traded to Oakland?" and shortstop Davey Concepcion said, "I'm not wearing that. I'm Venezuelan, not Irish."
Nevertheless, it took other teams until the early eighties to catch up and following the trend that was set by the Reds.
Nowadays, St. Patrick's Day is used by MLB clubs to sell extra merchandise as they promote special St. Patrick's Day caps, some years they are completely green, this year the caps are with a green club logo and a green lid. The cap also sports a small three-leaf clover on the left top of the crown. Also special themed green jerseys are promoted as you can see in the picture below.


What has started as a spontaneous move by the Reds in 1978, has turned into a commercial extravaganza meant to get a bit more money out of the fan's pockets.
Nevertheless, I want to wish the American and Irish readers of this blog a Happy Saint Patrick's Day.