Today, the Softbank Hawks beat the Seibu Lions 3-1 and handed their Dutch starter, Rick van den Hurk, his eighth win of the season. Rick took a no-hitter into the sixth inning but a solo home run ended his no-hit bid.
Rick was perfect in the first three frames but gave up a walk to Sosuke Genda, who promptly stole second. But Rick retired the next two batters to get out of the inning without any damage.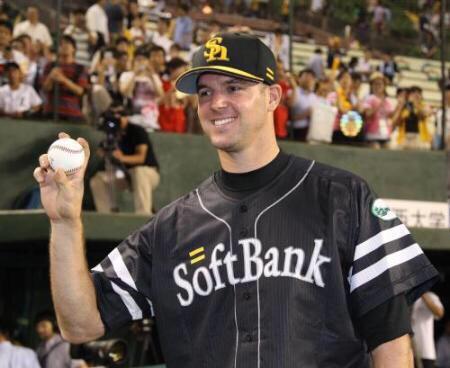 After a perfect fifth inning and two outs in the sixth inning, Rick served up a pitch that ended in the outfield bleachers when Shogo Akiyama hit it away for a solo shot. Sosuke Genda followed with a single to center field but Rick eventually retired Hideto Asamura for the final out of the inning.
At the start of the seventh inning, Rick was relieved by Yuuto Mori who pitched one inning, giving up a hit and striking out two. Sho Iwasaki pitched in the eighth inning as he faced six batters, allowed two hits and walked one but did not allow the Lions to score a run. Ramon Safate pitched the ninth frame to clinch the save. He gave up two hits but fanned two batters as well.
The offense of the Softbank Hawks scored just enough runs to hand Rick van den Hurk the win. Takata Tomoki led off the bottom of the fourth inning with a solo home run. Akira Nakamura drove in the second run on a single down the left field line that allowed Yuki Yanagita to score.
In the fifth inning, Seiji Uebayashi scored an insurance run from second base on a single down the right field line hit by Tomoki Takata.
The standings in the Pacific League show a weird situation. The Softbank Hawks have played nine games more than the Rakuten Golden Eagles. The Hawks have four more wins than the Golden Eagles (54-50) but still, the Golden Eagles are in the lead because of the better w-l percentage (.676 vs .643).