The Washington Nationals signed free agent RHP Joe Blanton today. To make room for him on the roster, the team designated catcher Spencer Kieboom for assignment in a surprising move. It remains to be seen if the Dutchie can prepare himself for the upcoming season with the Nats.
2017 would be the sixth season in the organization of the Washington Nationals. He was drafted in 2012 and started the season with the Short-A Auburn DoubleDays of the New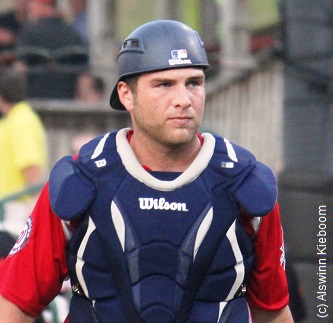 York-Penn League. The next season he was bothered by a nagging injury that would cost him his place on the 2013 WBC roster of the Netherlands. Later that season, Spencer would play four games for the Gulf Coast Nationals. After seasons with the Hagerstown Suns (A Full Season), the Potomac Nationals (A-Advanced) and the Harrisburg Senators (AA), Spencer was called up at the end of the 2016 season. He played in one game for the Nationals and got one plate appearance in which he drew a walk and scored afterward.
Kieboom was part of the preliminary roster of the Kingdom of the Netherlands but he opted for the Nationals, a hard decision according to Kieboom.
Now the Nats have designated him for assignment, there is a chance that another team will pick up the talented catcher with Dutch roots. If no other team is interested, the Nationals may offer Kieboom a renewed contract to play in the minors.
Kieboom is a fine defensive catcher. In the first four years of his career, the percentage of thrown out base stealers was an unbelievable 40%. Only in the 2016 season, that number was much lower with a modest 25%.
With Matt Wieters and Jose Lobaton, there would have been a slim chance for Spencer to make the Opening Day roster of the Nationals. Next to these two, there are two more catchers with MLB experience.