The Lincoln Saltdogs have signed the next Dutchie. After Shairon Martis, Curt Smith (who has joined Pioniers of the Dutch hoofdklasse but only will play there in the play offs when the Saltdogs are eliminated), Randolph Oduber and Dashenko Ricardo, the team signed Christopher Garia on November 18.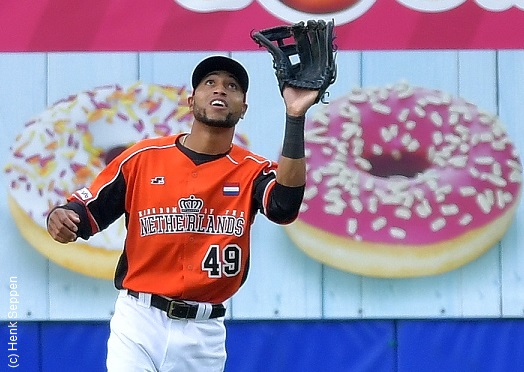 Garia sustained an injury during Spring Training in 2016 but eventually was appointed to the Hickory Crawdads, the A Full Season affiliate of the Texas Rangers in the Sally League. Garia batted .238 with four homeruns in 33 games before he was promoted to AA Frisco. With the RoughRiders he struggled at the plate. In 14 games he batted only .132. That was a reason for the Rangers to cut ties with the outfielder.
Without a club, Garia decided to jump accross the pond and to join Vaessen Pioiniers from Hoofddorp. In only five hoofdklasse games Chris batted .429. He also joined team Kingdom of the Netherlands during the Eurpean Champioinship in his "home" stadium in Hoofddorp. With the Dutch he had a back up role in the outfield, but after Roger Bernadina left the team, he stepped in just fine. In five games he batted .316 with a slugging percentage of .421.
The 23-year old outfielder now has signed a deal with the Lincoln Saltdogs (independent, American Association (of Professional Baseball)). Without a doubt this is because one of his fellow team mates of team Kingdom of the Netherlands has endorsed him. It may also be that he joined the Saltdogs because of his team mates playing there.
Garia will be a reinforcement for the Saltdogs, especially because of his defense.