Last week, the Sugar Land Skeeters (AAA, Houston Astros) announced it would change its name into Sugar Land Space Cowboys. The name, of course, is more fitting to the Houston area because of the western history but also due to the space industry.

Today, the club presented its new logo and merch for 2022. And to be honest, I was pleasantly surprised.

First of all the logo. It is a roundel with the name of the club in the outer ring. In the inner ring, a space cowboy is depicted, a head wearing a space helmet and a stetson on top of it on a starry background.

The new look of the club was presented by some of its players, showing the new uniforms.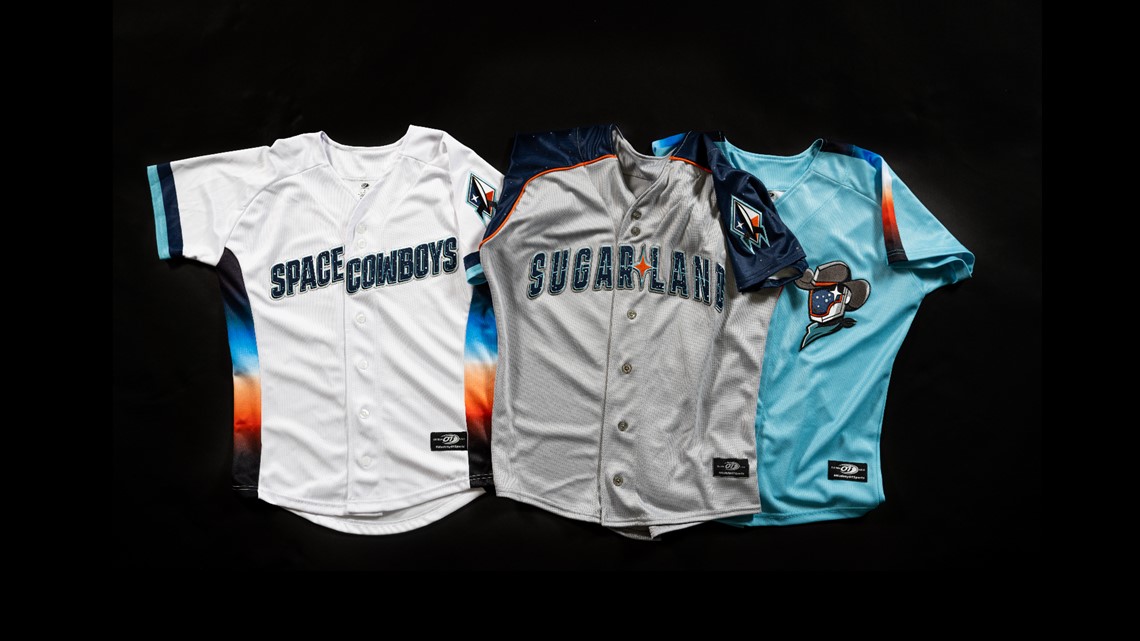 Next to the traditional home and road uniform, the club will sport an alternate uni as well.
The home uniform sports the words Space Cowboys in a playful way and in a modern font. The road jersey is gray with navy sleeves and sports the name Sugar Land on the front in a somewhat different font than the home jersey does. Between the words Sugar and Land, a star is depicted. The home jersey has a kind of rainbow on the side, running from the armpit down to the bottom of the jersey. It reminds me of the rainbow/Tequilla sunrise jerseys the Astros sported in the 70s.
The alternate jersey is baby blue and shows the main logo that is shown on the home cap as well.
When it comes to the caps, they are nice but the price is rather steep at $40. The road cap is navy with the main logo on the front. The road cap is also navy but with a powder blue lid and it sports the letters S and L with the aforementioned star (of the road jersey) between them. The alternate cap is navy with a white front and an orange-ish lid. The logo on the front of that cap is a rocket at a diamond-shaped Texan-like flag.


But let's be honest. Don't you think that with a name like Space Cowboys, the logo of the club should have looked like Steve Miller? 

Anyhow, the new look is much better than the Skeeters brand.