By beating Silicon Storks in two of the three game series last weekend, the canceled game between Quick Amersfoort and Hoofddorp Pioniers of two weeks ago, still had to be played to decide which team would be destined to play relegation baseball. Quick put itself into safety in the final at-bat of the game.
The game that was postponed after the ninth inning, two weeks ago, had to be played all over again. Two weeks ago, the score was tied at three when the umpires decided to call the game after the benches cleared.

Just like two weeks ago, Hoofddorp Pioniers took a 1-0 lead, but this time in the second inning. Duco Nuijter led off and was hit by a pitch and scored all the way from first on a double by Joost van den Bergh and an error by the center fielder. But Hoofddorp's lead would not last long. Thanks to a double by Taylor Clemensia, a single by Rachid Engelhardt and a double by Rowan van Hoek, Quick Amersfoort could tie the game at one.

But in the third inning, Pioniers regained the lead again. With the bases loaded, Mevin Gario walked in the go ahead run, followed by a single by Duco Nuijten that drove in Duncan Beljaards.

In the following two innings, Quick would score a run each to come alongside again and even though it had runners on third base twice, the team failed to cash in.

With the game still tied at the start of the bottom of the ninth inning, Quick Amersfoort rallied for that much needed run. With one out, Mees Robberse singled up the middle. Jordy Burger followed with a single to first base on which Robberse moved to second. Jorge Hernandez Morantes became the game winner when he singled through the left side and drove in Mees Robberse for the winning run.

Jasper Popken pitched 1.1 perfect innings for the win as he struck out two. Matthijs Oosterbeek took the loss. In 3.1 innings, he gave up one run on four hits and a walk and struck out three.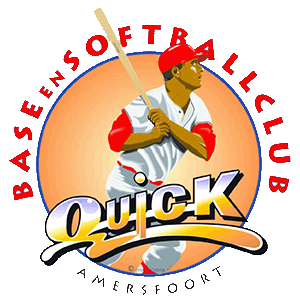 Taylor Clemensia was the best hitter for Quick Amersfoort. He went 3 for 4 with two doubles and a run scored.

Thanks to this win, Quick Amersfoort doesn't have to play relegation baseball. Silicon Storks now has to face the winner of the Eerste klasse, which likely will be RCH Pinguïns from Heemstede, in a best-of-three series. Rumor has it that the board of the club would like to earn the promotion to the hoofdklasse, but the players appear not to be eager to play in the Walhalla of Dutch baseball. Since it is a rumor, time will tell if it is true, pending on the club winning the promotion/relegation series.

This blog post is brought to you by