Tonight the Missoula PaddleHeads (former Osprey) unveiled their new uniforms for the 2020 season. The team will sport five different jerseys, perhaps a bit much for an Advanced Rookie ball team.
The team of the Pioneer League launched a video in which it shows the new jerseys to the baseball world. A fashion show was originally planned but due to the coronavirus, that one was cancelled.
"We are very proud of our new look," explained PaddleHeads' Vice President Matt Ellis. "Our goals with our on-field jerseys was the same as with our logos. To develop jerseys that represent Missoula's lifestyle, natural surroundings, and convey our heart and soul. We feel like we have done that with our Zootown road jersey, our tie-die alternate jersey, our state logo represented on all the jersey sleeves, and our baseball traditional pinstripe home look. Our players will be proud to represent Missoula + Zootown throughout the Pioneer League wearing these uniforms, as they have already told us so."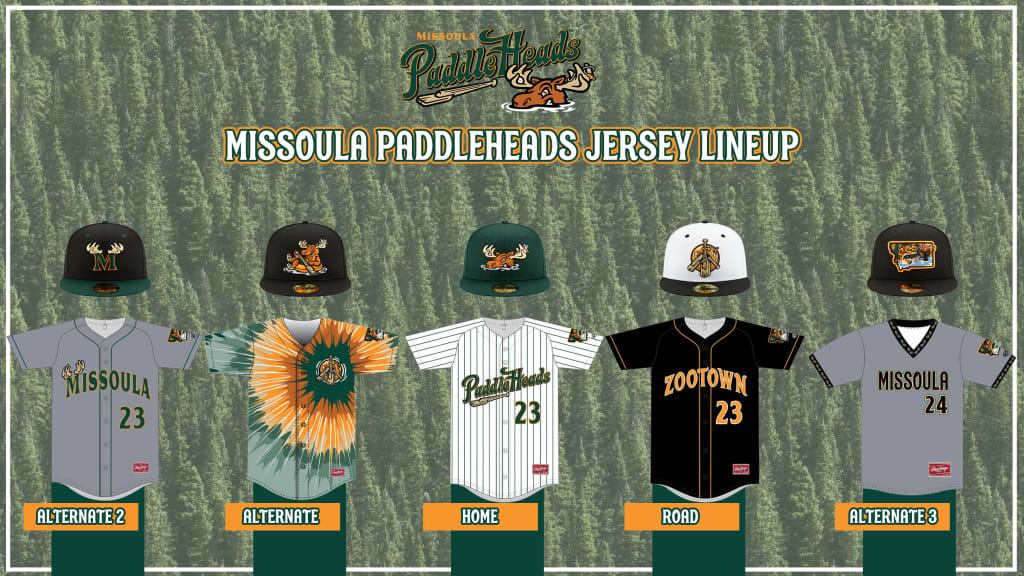 The lineup shows three alternate jerseys, a home, and a road jersey. The road jersey differs from the regular gray. In this case, the PaddleHeads chose a black one with the script "Zootown" which is the nickname of Missoula.
The first alternate jersey is a kind of tie-died design on a (road gray) background. The second alternate jersey is a buttondown jersey with the name of the city. The capital M sports two antlers on top. Like many jerseys, this one has piping running up along the buttons, round the neck and down again. The third alternate jersey is a pull-over jersey in the regular shade of gray of a road jersey. Also, this jersey sports the name Missoula on the front. According to the club's website, the jersey will mainly be used as BP jersey.
Finally the home jersey. It is a traditional white jersey with forest green pinstripes and is sports the name PaddleHeads in a playful way on the front of the jersey.
All jerseys sport the fishing moose logo with the outline of the State of Montana.