In a crazy 26-run game, Dutch Yankee star, Didi Gregorius, had a very good day at the plate. The 29-year old shortstop went 5 for 5 with two doubles and a home run.
Most important of all, the Yankees stayed at the right side of the score (I know, I know, I am biased) as they beat the Twins 14-12 in ten innings.
In just one game, Didi raised his batting average with 29 points from .252 to a much more acceptable .281.
After the Yankees took a 2-0 lead on Didi's double in the first inning, the Twins bounced back and took a seemingly comfortable 8-2 lead on the pitching of Domingo German and David Hale. But in the top of the fifth, the Yankees got back in the game as they scored thrice on a home run by Gregorius.
A five-run eighth inning, with another two-run double by Gregorius, gave the Yankees the lead for the first time in the game. After getting on base on a single in the tenth, he scored the go-ahead run for the Yankees, who scored an insurance run when Austin Romine scored on a wild pitch.
Below you can see all five hits Didi collected.
Didi joins two Yankee legends with at least four hits and seven RBI in a game.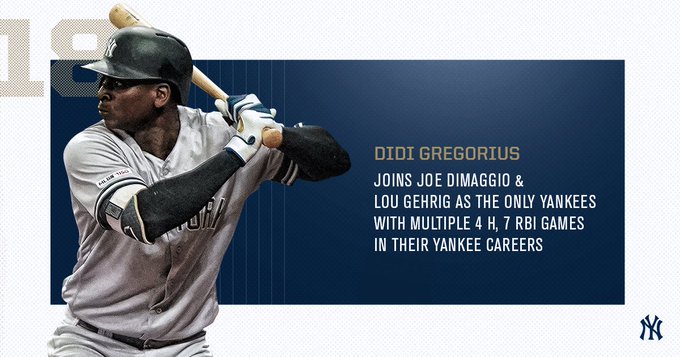 With his home run, Didi reached the 100 home run mark, making him the third player of the Dutch Kingdom on the all-time home run list. Didi is preceded by Andruw Jones (434) and Jonathan Schoop (125).