Today, the European Championship B-pool will start. The tournament is split into two groups. One part will be played in Blagoevgrad, Bulgaria, the other will be played in Trnava, Slovakia. The tournament in Slovakia will only start tomorrow. The winners of both groups will play a "playoff" series from July 26 – July 28 to decide who will advance to the European A-pool this summer. 

After being demoted from the European A group in 2016, Greece tumbled down even further to the C-group, from where it worked its way back to the B-group last year, together with Ireland. Likely, Russia may be the favorite to win this group, though Israel may be a dangerous outsider.
Israel  14  –  7  Greece

A clear victory for Israel in the opening game of the B-pool. Even though the Greek had one base hit more than Israel (13 vs 12), Israel was much more effective and scored fourteen times. The Greek pitching struggled as they gave up eight walks. The four runs Israel scored in the first inning all came on walks and HBP but one. Only Simon Rosenbaum hit a single that drove in a run in that inning. The Greek didn't go down without a fight but their innings were not as big as those of Israel, which explains the final score. Next to the eight walks, Greece gave up five wild pitches and two HBP. Schlomo Lipetz earned the win. In 2.2 innings of relief, he gave up one run on five hits and a walk and struck out one. Jonathan Kountis took the loss. In two innings as a
starter, he gave up six runs on two hits and five walks, a wild pitch and an HBP. Best hitter for Israel was Blake Gailen, who went 2 for 3 with a two-run home run, three RBI and four runs scored.
Ireland  5  –  17  Serbia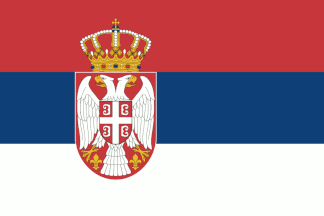 Just promoted Ireland did not stand a chance against Serbia. The Serbs only needed seven innings to seal the feat of the team of the Emerald Isle. By the time the Irish had scored their fifth run, the Serbs had scored twelve already. In the sixth, Michael McGee hit a grand slam home run to center field to bring the Iris within eight runs from Serbia.
A bases-loaded HBP and a grand slam home run by Conner Tomasic put the final score on the board.
Adam Panayotovic earned the win. In six innings he gave up five runs on ten hits and a walk and struck out four. Slater O' Brien took the loss. He lasted only one inning as he
gave up five runs (three earned) on four hits and two walks and struck out two.
Dan Philips was the best hitter for Serbia as he went 2 for 3 with two RBI and two runs scored. The game itself was a festival of errors as the teams combined for eleven errors.
Russia  21  –  0  Bulgaria

The Russians confirmed their status of favorite by beating Bulgaria in five innings.
Besides the second inning (one run), third inning (four runs) and the fifth inning (four runs), the Russians had a huge inning in the fourth when they scored twelve (!) runs.
The scoring in the fourth inning started with a three-run home run by Denis Leonov. Vacheslav Vasilev followed with a solo shot to right field. Another three-run homer was hit by Frank Bulte Penya. A single, a bases-loaded HBP and a bases-clearing double drove in five more runs.
Bulgaria collected three hits of which two in the second inning.
Andrei Lobanov pitched a five-inning complete game shutout. He gave up three singles and a walk and struck out nine. Stefan Beshkov took the loss. In three innings, he gave
up twelve runs on eight hits and as many walks.
Vacheslav Vasilev was the best hitter for Russia as he went 3 for 3 with a home run, two RBI and four runs scored.