Yes, it is a returning event in baseball. A day that must please every baseball nut/Star Wars fan. May 4, in general, promoted as "May the fourth be with you" with a nod to the Star Wars saga's phrase "May the Force be with you." Also this year, many MLB and MiLB teams will have a "May the fourth be with you" themed day.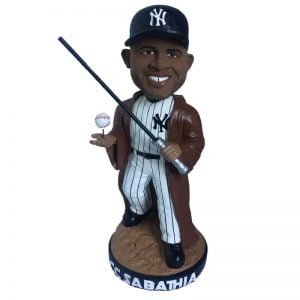 In the Bigs, the New York Yankees will have a CC Sabathia Jedi bobblehead give away. The tall starting pitcher is shown with a Jedi cloak, carrying a lightsaber and a floating baseball above his right hand.
The Baltimore Orioles will handout a BB8
 beanie to the first 20,000 fans of 15 years and older. Next to the BB8 beanie, the fans can get a Trey Mancini Bobblehead when they buy a special "May the Fourth be with you" party package and game ticket.
Also, the Pittsburgh Pirates will handout a Star Wars

themed bobblehead. The first 20,000 fans will receive an Obi-Wan Jameson Taillon Jedi bobblehead.
In the International League, the Durham Bulls will sport specialized jerseys.
The grey-ish jerseys will have a kind of backpack, carrying Yoda printed on them. On the backpack, the uniform number of the player is shown.

The May the Fourth Be With You celebration/ Star Wars Day at Montgomery Biscuits' Riverwalk Stadium will feature characters from the 501st Legion, a costume contest, wookie calling competition and all the sights and sounds from a galaxy far, far away! Biscuits players will be wearing Star Wars themed jersey that will be auctioned off during the game.
The Louisville Bats' Victory Field will turn into a galaxy far, far away with Star Wars character appearances, music, in-game entertainment and more.
As you can see, the intensity of the celebrations varies with every ball club. For example, the Miami Marlins will not have a May 4/ Star Wars celebration at all as the team hands out a tote bag with the Marlins logo on the side on that day.
The Toledo Mudhens will also have a "May the Fourth be with you" celebration but the team will even go a step further as it will celebrate "The Return of the Fifth" one day later.
The Northwest Arkansas Naturals will invite their fans to appear in their favorite Star Wars gear. They can also get a picture with Star Wars characters that are still to be destined. During the game, special Star Wars themed jerseys will be auctioned.
Next, to these clubs, a "ton" of minor league franchises will also celebrate May the Fourth be with you" : Lynchburg Hillcats, Harrisburg Senators, Augusta Green Jackets, Asheville Tourists, Myrtle Beach Pelicans, Wilmington BlueRocks, Richmond Flying Squirrels, Clearwater Threshers, Potomac Nationals, Akron RubberDucks, Kannapolis Intimidators, Tennessee Smokies, Ft Wayne TinCaps, Mississippi Braves, Pensacola Blue Wahoos, Indianapolis Indians, Birmingham Barons, San Jose Giants, San Antonio Missions and the Omaha StormChasers.