The Philadelphia Phillies announced today, that All-time hits leader, Pete Rose, will not participate in the upcoming wall of fame induction. Both parties fear that other matters will overshadow the goodwill associated with the Alumni Weekend at Citizens Bank Park on August 10-13. 
The All-time hits leader would attend his induction to the Phillies wall of fame. As part of the festivities, the Phillies would hand out Pete Rose bobbleheads on August 11, but they have decided not to distribute the bobble heads because of the current matters surrounding Pete Ros
e.
Recently newly uncovered court documents alleged that all-time hit king Pete Rose committed statutory rape while playing for the Reds in the 1970s. An anonymous woman's statement alleges Rose had a sexual relationship with her before she turned 16, the age of consent in Ohio, where the two lived at the time. The statement is part of the defense against Rose's defamation lawsuit. John Dowd was behind the report that eventually got Rose kicked out of baseball for betting on games while he was a manager, including his own team's games.
Because of the accusations, the Phillies came with the following press release: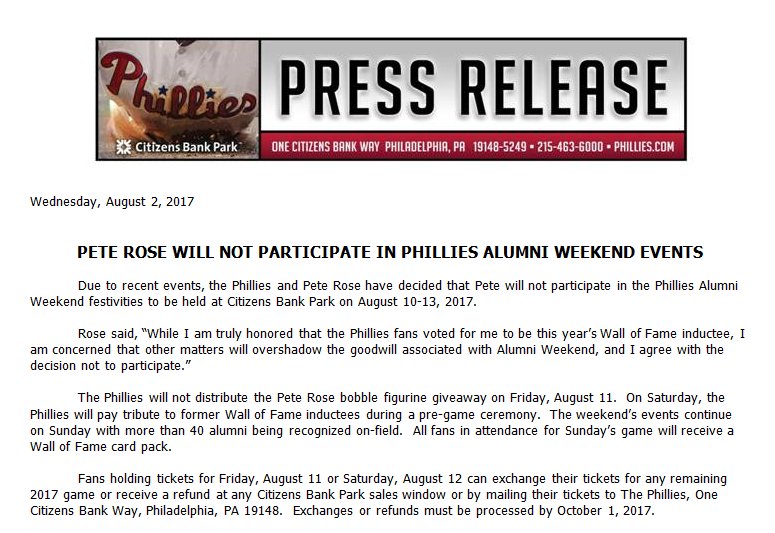 After spending years with the Phillies and the Expos, Rose returned to the Cincinnati Reds where he broke the all-time base hits record on September 11, 1985, when he hit his 4,192nd hit of his career, surpassing Ty Cobb. Rose finished his career with 4,256 hits and a .303 lifetime batting average.
Despite having a marvelous career, Rose got into trouble when he was found guilty of betting on baseball games, including those of his own team, the Cincinnati Reds, the team that he managed at the time. Due to this betting scandal, Rose was excluded from Hall of Fame votings. But he kept being surrounded by scandals. In 2010, Deadspin, a sports website reported Rose used corked bats in his pursuit of Cobb's record. Rose denied the allegations, but two sports memorabilia collectors who owned bats used by Rose, had the bats x-rayed and found the signs of corked bats.